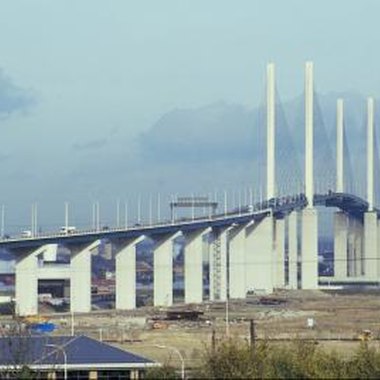 Ebbsfleet, in Gravesham, Kent, is is the newest international station on the high-speed rail line between the Channel Tunnel and London. The station complex, opened to the public in 2007, is 10 miles east of London in the Ebbsfleet Valley. International services, run by Eurostar, connect Ebbsfleet to France and Belgium by high-speed rail. Since 2009, high-speed domestic rail services connect this Kent station with London St. Pancras, 15 minutes away. The Bluewater Shopping Centre, one of Europe's largest, with 600 stores, is less than 10 minutes away by taxi. All of this makes Ebbsfleet a convenient destination for shoppers and visitors heading to London from northern France or the capital of the European Union in Brussels. All of the major UK hotel groups have a presence within a few miles of Ebbsfleet.
Holiday Inn London Bexley
This Holiday Inn is about seven miles from Ebbsfleet International Station and five miles from Bluewater. Rooms are simply furnished in a contemporary style that is standard for the brand, with light oak furniture and splashes of color. The hotel operates Holiday Inn's Kids Eat Free program. Up to four children, age 12 and younger, can eat free from the children's menu when accompanied by an an adult selecting from the normal menu. This hotel is beside the busy A2 trunk road to London. Rooms have blackout curtains, but noise levels could be a concern to some guests.
Hilton Dartford Bridge Hotel
The Hilton Dartford Bridge, a large hotel within 3.5 miles of both Ebbsfleet International and Bluewater, has a range of leisure facilities. This makes it a good choice for a family shopping trip longer than a simple transit stopover. The Hilton has a good-sized swimming pool; two tennis courts; and a health club with gym, sauna and steam room. The hotel is within four miles of local public golf courses. A full-service hotel, the Hilton Dartford Bridge has 24-hour room service, two restaurants and a bar, as well as multi-lingual desk and concierge staff.
Travelodge Dartford
This Travelodge, about 1.5 miles from Ebbsfleet, is the most economical option of the branded hotels near the international station complex. The hotel has family rooms with a double bed and a pull-out sofa bed suitable for two small children. The hotel's own website warns of road and railroad noise, so it's likely that it's not suitable for light sleepers. Toiletries, such as shampoo, soap or shower gel are not provided, but guests can buy these items from a hotel vending machine.
Premier Inn Gravesend Central
This hotel group promises a comfortable night's sleep and an economical on-site restaurant at all its locations. Currently the biggest hotel group in the United Kingdom, Premier Inns are not fancy but are reliable and convenient for stopovers. This one is about two miles from Ebbsfleet. The hotel offers an economical meal deal package including a three-course dinner with wine or beer and an "eat as much as you like" breakfast. Up to two children, age 15 and younger, can eat breakfast free when accompanied by an adult having a full cooked breakfast.
Resources
Holiday Inn London-Bexley; Southwold Road, Bexley DA5 1ND; 011-44-871-9429006
Travelodge Dartford Hotel; Charles St. Off Crossways Blvd.; Dartford DA9 9AP; 011-871-984-6025
Premier Inn Gravesend Central; Wrotham Road; Gravesend DA11 7LF; 011-44-871-527-8474
Photo Credits
NA/AbleStock.com/Getty Images