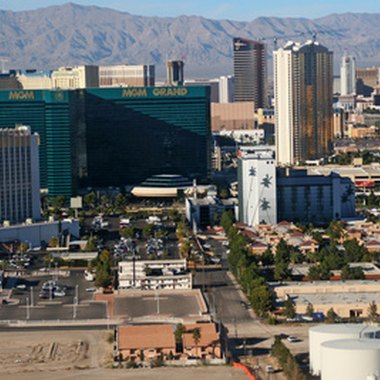 When planning a visit to Las Vegas, consider the Strip the center of action. This street with the actual name Las Vegas Boulevard is home to most major resorts and attractions in "Sin City." If you want to get away from the madness of this area, consider a stay east of the Strip, where good lodging can be found near or far.
Hard Rock Hotel & Casino
This hipster's paradise is the best place for celebrity viewing, as Hollywood types often drop into this resort. Rooms here cost more than similar ones on the Strip because of the cool factor -- and the Bose stereos and plasma TVs showing all the music videos you can stand. Hard Rock offers some of the best concerts with top national acts in its club, The Joint. Dine at the ubiquitous Hard Rock Cafe or try Mexican at Pink Taco while viewing the many displays of rock memorabilia at this resort, which is less than a mile from the Strip on Paradise Road.
Sam's Town Hotel & Gambling Hall
If you want to really avoid the Strip, consider a stay at this resort five miles east that is a popular locals' casino. Since Sam's Town is so isolated, it offers up many entertainment options. Families recommend this resort due to its 56-lane bowling alley, 18-screen movie theater and child care center. Enjoy the light and water show called Sunset Stampede four times daily at Mystic Falls Park on the property. The 153,000-square-foot casino (second in size in Las Vegas only to MGM Grand) features plenty of Old West paraphernalia to add to the friendly feel of the property.
Las Vegas Hilton
This businessman's hot spot is next door to the Las Vegas Convention Center. A stalwart just east of the Strip, the hotel offers furnishings similar to those found at top resorts on Las Vegas Boulevard for a much lower price. Pay extra and get a Resort Club room, which allows access to a special 24th-floor lounge. The showroom here has hosted many major acts over the years, from Elvis Presley back in the 1970s to Barry Manilow in 2009 and 2010. An eight-acre recreation deck offer tennis courts, a large pool and a spa.
Transportation
You can technically walk from Las Vegas Hilton and Hard Rock to the Strip, but it's a pretty good hike from either property. The Hilton is the last stop on the monorail that connects to many properties on the east side of Las Vegas Boulevard, but the Hard Rock has no such advantage. If you stay at any of these properties or other hotels east of the Strip, you should consider renting a car if you plan to tour Las Vegas.
References
"Fodor's Las Vegas 2010"; Andrew Collins et al.; 2009
"Frommer's Las Vegas 2009"; Mary Herczog; 2009
Photo Credits
las vegas from above image by Olegs Mareida from Fotolia.com