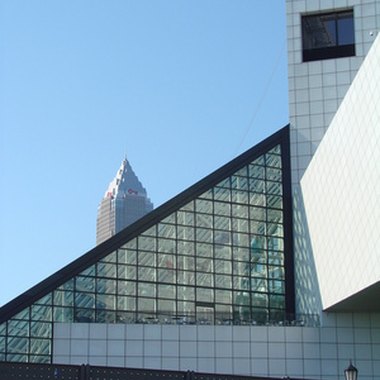 The heart of downtown Cleveland, Ohio, rests at Public Square, located at the intersections of Ontario and Superior Avenue. It is surrounded by an eclectic collection of businesses, entertainment and attractions. A diverse location, downtown Cleveland is divided in quadrants that include the warehouse district, gateway district, civic center district, financial district, the North Coast Harbor district, theater district and The Flats. While not every district houses a hotel, every hotel in downtown Cleveland is easily accessible to the many attractions of the area.
Marriott
Located on Public Square, the Marriott rests in the heart of Cleveland's business district, formally referred to as the Civic Center District. Overlooking Lake Erie, the Marriott offers 400 guestrooms and suites, along with a host of meeting rooms. The heated indoor pool allows guests to enjoy the water 24/7, even during Cleveland's harsh winters. Guests may choose from the collection of on-site eateries or step out to nearby restaurants, including John Q's Steakhouse and Lola's, both less than half a mile from the hotel. Surrounded by the Cleveland Justice Center, the Cleveland Public Auditorium, and the Cleveland Public Library, visitors are within walking distance from some of downtown's finest attractions.
Hampton Inn
Hampton Inn is an affordable hotel that serves individuals, professionals and families alike. Guests of this hotel may start their mornings with complimentary breakfasts and beverages. Though off-site parking is this hotel's only parking option, the hotel provides an on-site car rental desk. Centered on East 9th Street, Hampton Inn positions its guests in the heart of Cleveland's Business District. The hotel is within walking distance from the pier, allowing access to Cleveland's North Coast Harbor, the Rock and Roll Hall of Fame, and the Cleveland Brown's Stadium.
Renaissance Cleveland Hotel
The Renaissance Cleveland Hotel is a historic hotel located on Public Square. This city landmark built in 1918 features unique architecture that includes vaulted ceilings and a marble fountain. In the center of its 10-story atrium, guests are surrounded by an array of amenities including an on-site bar and club lounge, Brasserie Restaurant, in-house fitness center, and 5th-story indoor, atrium pool. Attached to Tower City Center, guests of the Renaissance Cleveland Hotel have immediate access to shopping and are within walking distance of Quicken Loans Arena and Progressive Field.
Wyndham Hotel
The Wyndham Hotel is in the heart of Cleveland's Theater District and places guests right outside of PlayhouseSquare's five performance theaters. As a standard, this boutique-style hotel provides oversized rooms, bellhops and concierge services to all guests. Room service is available, and the hotel's indoor pool is complemented by its fitness and sitting areas. Along with theater access, guests of the Wyndham are within walking distance of Cleveland State University, the Wolstein Center, and Progressive Field.