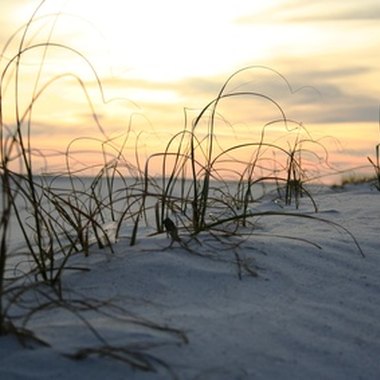 The city of Pensacola, in the Florida Panhandle, is famous for its long ribbon of white, sandy beaches and lots of sunshine. What many visitors are discovering, however, is that Pensacola is also one of the oldest cities in America, with a rich history that is highlighted in the downtown area. The Historic Pensacola Village includes 27 significant historic buildings, with many hotels located within walking distance.
Historic Hotels
Pensacola is known as the "City of Five Flags," a reference to the five different countries that laid claim to this city over the years. The Crowne Plaza's Pensacola Grand Hotel is one of the most luxurious properties downtown, with strong ties to the past and proudly highlighting its working-class roots as the site of the L&N railroad passenger depot. It is listed in the National Register of Historic Places as an important architectural landmark, with the lobby, lounges and meeting rooms housed in the original depot.
Mid-Range and Upscale Hotels
With hundreds of businesses located in downtown Pensacola, lodging choices cater heavily to business travelers. The Courtyard and the Residence Inn, both by Marriott, host a business center, conference and board rooms, and are near several national corporation facilities. Near Pensacola Bay, the colonial-style New World Inn, a boutique hotel, is located within a meeting facility known as New World Landing, which also houses a popular wine and martini bar. The Sole Inn and Suites is designed with a retro 1950s flair but is a new property with a decidedly hip and modern ambiance. It offers complimentary cocktails from 5 to 7 p.m. every day.
Economy Hotels
Economy chain hotels are harder to find in downtown Pensacola, making it more feasible for those on a budget to stay closer to the strip of lodging properties just off the freeway or in the university area. The Days Inn, however, is one choice that does offer a way to stay in your budget within the bustling downtown area. This hotel puts you, literally, on top of the Olde Town Tavern, located just below the lobby, and only half a mile from the Pensacola Civic Center.
Bed-and-Breakfast Inns
With a city so steeped in history, it's no surprise that older homes downtown have been restored and converted into bed-and-breakfast inns for those travelers desiring an authentic replication of days gone by. The Pensacola Victorian on Gregory Street, originally the home of a distinguished ship captain and mayor of the city, is now is open to guests, with four rooms in the heart of the historic district. The Lee House Bed & Breakfast Inn is adjacent to Seville Square and Fountain Park, enticing guests outdoors with classic Southern porches and a courtyard with a fire pit. An antique Steinway piano and historic artifacts adorn the common areas indoors.
Photo Credits
sandy beach scene on pensacola beach image by Edward Cooper from Fotolia.com