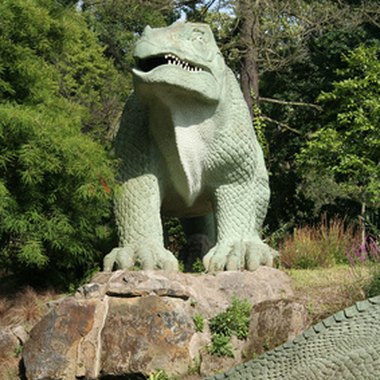 Crystal Palace is a residential area of South London that extends into the boroughs of Croydon, Lambeth, Southwark and Lewisham. Its name derives from the original Crystal Palace built to house the Great Exhibition of London in Hyde Park in 1851. Moved to Sydenham Hill in 1854, the Crystal Palace became a Victorian theme park. In 1936, fire destroyed the structure. Hotels occupy some of the area's historic Victorian buildings, alongside restaurants and pubs.
The Euro Queens Hotel
The Euro Queens Hotel is housed in a Victorian building that dates back to 1854. Individually furnished rooms with double glazed windows have en-suite baths with showers; TV, trouser presses and hairdryers. Room rates cover continental breakfast. Hotel facilities include a breakfast and dining room, lounge bar, function room for meetings and conferences, and room service. Free parking is available for guests. The Crystal Palace National Sport Centre and Selhurst Football Grounds are among the places of interest within walking distance, and Central London is just eight miles away.
The Crystal Palace Tower Hotel
The Crystal Palace Tower Hotel offers single, double and twin bedrooms with en-suite bathrooms. All guest rooms have TV, and tea- and coffee-making facilities. The hotel is within easy reach of local attractions. Explore the nearby pubs, including the Black Sheep, where poker and live music are on offer; the eclectic White Hart; Westow House with its comfortable Chesterfield sofas and an open fire; and Patrick's with all the big sports fixtures. Or dine out at Crystal Palace eateries like family-owned A Torre Portuguese Restaurant; Joanna's, serving British and European classics and international cuisine; and Lorenzo's Ristorante. offering Italian favorites.
Leigham Court Hotel
Leigham Court Hotel was once the home of Lord and Lady Leigham. This stately Victorian building houses full en-suite single, twin, double, triple and family guest rooms with direct dial telephones, satellite TV, tea- and coffee-making facilities and hairdryers. Guests can enjoy a buffet-style English breakfast in the breakfast room on the ground floor of the hotel. Nearby attractions include the Crystal Palace Sports Stadium and the Crystal Palace Museum, as well as shopping and public amenities like an ice rink and a swimming pool.
The Croydon Park Hotel
The Croydon Park Hotel is ideally located to accommodate both business and leisure guests, particularly tennis fans attending Wimbledon and athletes competing at Crystal Palace Stadium. Spacious guest rooms have en-suite marble bathrooms, working desks, Internet access, direct-dial telephones, tea- and coffee-making facilities and hairdryers. Oscar's Brasserie features international cuisine and local produce. The buffet lunch is a highlight, and the restaurant caters to special dietary requirements. Whistlers Bar is also a popular place for beer, wine and cocktails and light meals. Hotel facilities also include a business center, meeting rooms, health club with gym, indoor swimming pool and squash court.
Photo Credits
Huge concrete dinosaurs in a crystal palace park image by hazel proudlove from Fotolia.com