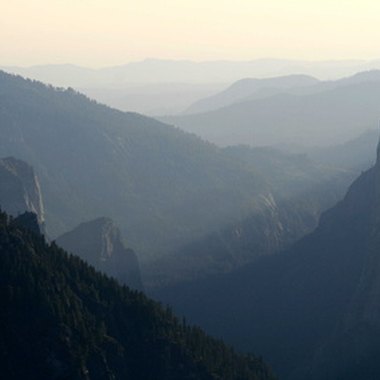 Visited by more than 3.7 million people every year, California's Yosemite National Park is one of the most popular outdoor destinations in the country. That very popularity ensures that the towns situated outside the park offer a wide range of hotels, motels, rental cabins and other lodging options, so no visitor needs to endure the rigors of camping to enjoy the striking mountains and giant sequoias of Yosemite.
Considerations
Yosemite National Park encloses more than 1,180 square miles of territory, with five entrances along its eastern, southern and western borders. Given the size of this park, a given entrance might be quite remote from particular features inside the park. The western Tioga Pass Entrance is the only entrance near the Dana and Tuolumne meadows, a situation often repeated throughout the park. To avoid wasting time driving long distances through or around Yosemite National Park, visitors should consult a map and compare their hotel choices against what park features they wish to see.
Best Western Yosemite Gateway Inn
Situated in the town of Oakhurst near the park's South Entrance, this Best Western was described by Fodor's as the best motel in the area. Each of the 122 rooms are decorated with dark wood, mid-range style hotel furnishings and a hand-painted wall mural of Yosemite National Park. Overall, the hotel is a clean, comfortable and reasonably priced place to stay for those interested in sights in the southern end of the park, such as Mariposa Grove.
Evergreen Lodge
Described by Frommer's as "one of the best cabin resorts in the Sierra Nevada" and Fodor's as "the perfect blend of rustic charm and modern comfort," the Evergreen Lodge is right on the border of the park near the Big Oak Flat Entrance. Evergreen Lodge presents its guests with a secluded atmosphere, as it is located seven miles off the main road. Accommodations consist of rental cabins, each with rustic touches such as art made from old peach boxes and porch rocking chairs, as well as comfy arm chairs and beds.
Yosemite View Lodge
Located two miles from the Arch Rock Entrance, the Yosemite View Lodge earned a "highly recommended" rating from Frommer's. The lodge is a motel complex with 335 rooms, with its size and location making it a popular last resort for visitors unable to secure lodgings inside the park and Yosemite Valley. All the lodge's rooms are motel-style with fireplaces and lovely views of the surrounding wilderness. Fodor's called special attention to those rooms with balconies that overlook the Merced River.
Photo Credits
Yosemite Valley 2 image by Robert Ulph from Fotolia.com