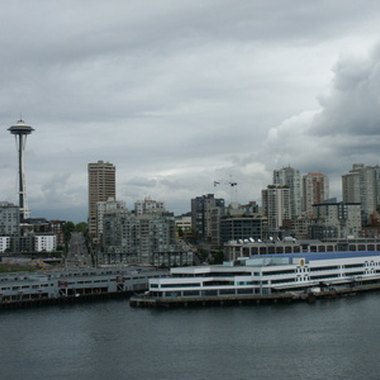 Anyone who has visited the Seattle/Tacoma area knows that traffic jams are inevitable. Whether it's a rock slide on the Snoqualmie Pass or a special downtown event, the possibility of a traffic tie-up lingers and threatens to make you miss your flight. Fortunately, the abundance of SeaTac Airport hotels eases the pressure, allowing you to enjoy your last evening in the Pacific Northwest.
Budget Hotels
Downtown Seattle hotels tend to be pricey, but the SeaTac Airport area has an ample selection of budget hotels. Balance your travel budget by staying at one of the affordable lodging venues and enjoy perks such as free airport shuttle service, Internet access and continental breakfast. The Sleep Inn, 1.8 miles from SeaTac Airport, is an example. This hotel, which offers free use of Fax and copy machines, offers special rates for government employees. The Jet Motel is budget lodging with character. There's a 1930 Model A Ford in the lobby, and the airport shuttle is actually a trolley car.
Hotels with Extra Amenities
There are no true luxury hotels near SeaTac Airport, but some establishments go the extra mile to assure a comfortable stay. The Best Western River's Edge, for example, offers a Jacuzzi, a sauna, room service and free breakfast. A free shuttle takes you on the 2.8 mile ride to the airport. The Courtyard by Marriott at Southcenter ups the ante by offering free local transportation service. This Marriott participates in the Nickelodeon Your Stay Family Vacation, which offers kids a goodie bag, a four-page activity book and a silicone bracelet with access to a secret online game.
Best for Pets
The pet-loving Red Lion Hotel, located 0.4 miles from SeaTac, makes your pets comfortable. The guest services agent gives you a pet treat bag at check-in. While most Red Lion Hotels charge a $20 pet fee per night, the fee is waived for guests who have reached Platinum Level in their loyalty program. The hotel offers a free breakfast buffet and Bath & Body Works amenities. If you have an affinity for Crabtree & Evelyn amenities, the Hilton Seattle Airport & Conference Center is another pet-friendly alternative, but watch out, your dog will want to join you in Hilton's signature Serenity Bed, which features down comforters and down pillows.
Suite Hotels
If you are traveling with a larger group or family, a suite hotel is more economical than booking two hotel rooms. The two-room suites at the Doubletree Guest Suites Seattle Airport/Southcenter have a king bed in the bedroom and a sofa bed in the living room. While the hotel has restaurants and room service, the suites have full kitchens, where you can prepare your own meals. The hotel is located about two miles from SeaTac Airport. Comfort Inn and Suites, located a half-mile from SeaTac, offers an affordable alternative. Breakfast is free, with an added bonus. Make your own waffles in the waffle-maker, and you will swear off frozen waffles forever.