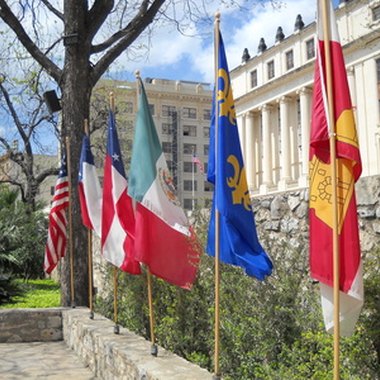 San Antonio, Texas, draws more than 2 million tourists per year who want to enjoy its diverse history, shopping and family attractions. Traversing the city is the picturesque San Antonio River, which offers tourists the chance to enjoy a river cruise, a wide array of shopping, strolling trails, biking and dining, all within walking distance of the heart of the city. Along the waterway, tourists will find a wide array of hotels.
Drury Plaza Hotel Riverwalk
The Drury Hotel sits beside the Riverwalk on the banks of the San Antonio River. Located close to downtown San Antonio, the Drury Hotel resides in the refurbished and historic Petroleum Commerce Building. Guests can appreciate a stunning view of the city from the hotel's guest rooms or take a dip in the rooftop swimming pool that looks out over the cityscape. Located at Commerce and St. Mary's Streets, the hotel allows guests to stroll to the Alamo, dine beside the river or enjoy a leisurely river cruise.
El Tropicano Riverwalk
A Latin theme-inspired hotel, the El Tropicano Riverwalk offers guests a tropical feel and overlooks the Riverwalk's waterfalls. Guests are encouraged to stand on the balcony to gaze out at the falls and enjoy the relaxing sounds of the water. They also can enjoy a drink at the hotel's Tiki Bar located above the Riverwalk. The hotel offers 306 rooms with suites that overlook the river and offer views of the city's skyline. The hotel is walking distance from downtown tourist attractions and shopping.
O'Brien Historic Hotel Riverwalk
A small hotel, O'Brien Historic Hotel Riverwalk offers only 39 guest rooms but prides itself on personalized service. The hotel is reminiscent of a bygone era in San Antonio. Guests can walk outside the hotel and ride the historic trolley car into the city. Located only one block from the Riverwalk, the hotel offers guests a leisurely stroll or a morning coffee beside the water. The hotel also sits only 8 miles from San Antonio International Airport.
Hotel Havana
The Hotel Havana opened its doors in 1914. Considered a historic boutique hotel and listed on the National Register of Historical Places, it stills retains its distinct charm by featuring original wrought-iron beds in each room and dark hardwood flooring. It is a pet-friendly hotel, and guests can step outdoors to take their four-legged friend for a jaunt along the Riverwalk. A local nightlife hotspot, The Bar is in the basement and offers drinks and fine cigars
Photo Credits
Alamo grounds - six flags image by Olivia Ogden from Fotolia.com