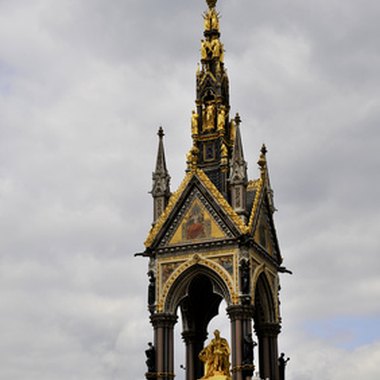 Kensington is a central London borough that, though one of the smaller boroughs, takes in a lot more than many visitors think. Chelsea, South Kensington, part of Knightsbridge, Notting Hill, Portobello, part of Bayswater, Holland Park and Westbourne Grove are all in Kensington. When visitors refer to Kensington, they usually mean the much smaller area around Kensington High Street Underground station, made up of shopping and residential areas. A small number of neighborhoods close to this hub have hotels of different styles and price ranges. Each of these is most characteristic of its district.
South Kensington -- Typically Victorian
South Kensington, south of Kensington Gardens and adjacent to residential Kensington, is the home of the Royal Albert Hall and several of London's famous museums. The Gore Hotel, on Queens Gate, is in the midst of an area developed in the Victorian era with the encouragement of Prince Albert. The public rooms of the Gore, with their original features, capture the authentic Victorian spirit of Prince Albert's South Kensington. Originally a genteel Victorian residence, it is now a boutique hotel. Entering the lobby is like stepping back in time. In the guest rooms, on the other hand, eclectic fantasy rules. One room has an Elizabethan minstrel's gallery rescued from an older building; another has a bed that belonged to Judy Garland.
Kensington Gardens -- Location, Location, Location
Bayswater Road runs along the north side of Hyde Park and Kensington Gardens, changing from a shopping street lined with chain stores and supermarkets to an avenue of smart boutiques and grand homes as it heads westward to Holland Park. Good-quality tourist accommodations with convenient public transport connections are this neighborhood's strong suit. One that has some of the best views for visitors is the Ramada London Hyde Park. Across from the private end of Kensington Gardens, it faces Kensington Palace, once home to Princess Diana, and the embassies of Kensington Palace Gardens. The hotel is within easy walking distance of Notting Hill and Portobello Road. Rooms are not elaborate, but they are modern and furnished to a relatively high standard. Executive rooms have park views.
Bayswater -- Home Comforts
Bayswater, the area north of Hyde Park and Bayswater Road, is a neighborhood of tourist hotels for the budget-minded. Although this is a stylish area for shoppers and residents, hotel quality here varies,and cheap, nasty boarding houses are all too common. But careful visitors can find charming guest houses and eccentric townhouse boutiques. The best budget hotels in Bayswater are small and homey. The Troy Hotel is one of these. Though it describes itself as a luxury boutique, it is, in fact, a more modest, budget-priced guesthouse. Accommodations are clean and well-maintained. Bathrooms are fresh and modern if reminiscent of a nice, suburban home.
Knightsbridge--Shoppers Specials
Knightsbridge is home to Harrods, Harvey Nichols and some of London's most expensive designer boutiques. It's under two miles, or just a few London Underground stops, from the less expensive shopping of Kensington High Street. The main reason for staying in Knightsbridge is to be close to glamorous shopping. And you can't get much closer than the Hotel Levin on Basil Street, virtually next door to Harrods. The hotel is a discreet and elegant 12-room townhouse, developed by David Levin, owner of Capital Hotel, another elegant boutique just up the street. Levin also owns organic vineyards in the Loire Valley of France and serves his own Sauvignon Blanc in the hotel's brasserie.