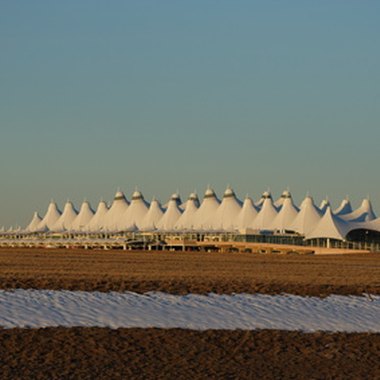 One of the world's busiest airports, Denver International Airport, or DIA, lies in northeastern Denver, roughly 25 miles from downtown. Travelers looking for accommodations close to the airport find a number of hotels within a 10-mile radius. These hotels are particularly convenient for vacationers who arrive on a late-night flight or are scheduled to depart early in the morning.
Courtyard by Marriott Denver Airport
This eight-story, 202-unit hotel, part of the Marriott family of hotel brands, sits only five miles from Denver International Airport. Nearby attractions include the Denver Zoo, Coors Field, Invesco Field and the Denver Art Museum. Popular with business travelers, the Courtyard offers a variety of business services, including fax, copy and translation, as well as desk/work areas, and wireless Internet access in all rooms and suites. Recreational facilities include an indoor swimming pool, hot tub and fitness center. The on-site Aspen Bar & Grill serves breakfast, lunch and dinner in a casual atmosphere.
Holiday Inn Denver Airport
Only minutes from the airport and with easy access to Interstates 25, 70 and 470, this six-story, 161-unit hotel offers 24-hour complimentary shuttle service to and from airport terminals. The hotel features a well-equipped business center and a wide array of recreational facilities, including a 24-hour fitness center, indoor swimming pool and hot tub. Guests who would like to eat on site enjoy breakfast, lunch or dinner in the Sporting News Grill, which also offers big-screen TV coverage of sporting events. Nearby restaurants include Ruby Tuesdays, Village Inn, DiCicco's and Ted's Montana Grill.
La Quinta Denver International Airport
This five-story, 169-unit hotel, only six miles from the airport, rolls out the welcome mat for your animal companions, permitting pets to stay in the hotel for no additional charge. All rooms and suites feature high-speed Internet access, and some also offer microwave ovens and compact refrigerators. Guests who want to stay fit swim laps in the hotel's indoor swimming pool or work out in the 24-hour fitness center. A business center is available for travelers who need to put the finishing touches on a business project. Although there is no on-site restaurant, the hotel does serve a complimentary breakfast each morning. Nearby are several restaurants, including Chili's, Great Divide, Joe's Crab Shack and Outback Steakhouse.
Hyatt Summerfield Suites Denver Airport
Close to DIA, this all-suites hotel is an ideal choice for family groups and visitors planning an extended stay. Each of the hotel's suites features a full kitchen, sofa bed, large desk/work area and wireless Internet access. For the convenience of guests who want to prepare meals in their suites, the on-site guest market is open 24 hours, and the hotel also offers a grocery shopping service for a small additional fee. Guests are treated to a complimentary breakfast buffet each morning and an evening social hour with free drinks Monday through Thursday. Recreational facilities include an indoor swimming pool, 24-hour fitness center and hot tub.
Photo Credits
denver international airport image by Evan Meyer from Fotolia.com