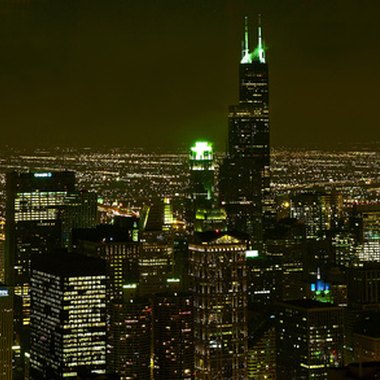 According an Air Transport World report, Chicago's O'Hare International Airport was the world's fourth busiest airport in 2009. Staying at a hotel near O'Hare has its advantages, most notably getting to the airport quicker and on time. The surrounding area is home to a wide selection of well-known chain hotels with services geared toward air travel.
Hilton Chicago O'Hare Airport
The Hilton Chicago O'Hare Airport is located directly on the airport property adjacent to Terminal 2. Guests of the hotel can walk to their flights at all three domestic terminals and the CTA's Blue Line train station with service to downtown Chicago. The hotel contains 860 sound-resistant guest rooms that feature European linens, iPod/MP3 docking stations and high-speed Internet access; baby cribs are available for rent. Guests can bring their pets but must pay a $50 non-refundable fee. The hotel has three restaurants and a sports bar. This is a Hilton HHonors Reward Category 5 establishment.
Best Western at O'Hare
The Best Western at O'Hare puts guests just over three miles away from the O'Hare Airport terminals. It offers a "Park N' Fly package" that includes one night's accommodation and up to 14 days of free parking. All guests can enjoy the convenience of the complimentary, 24-hour airport shuttle service. Guest rooms have a traditional layout with basic amenities and free wireless Internet connectivity; whirlpool suites are available. The hotel's fitness center stays open 24 hours a day. The on-site business center gives guests access to mail, fax and photocopy services.
Crowne Plaza Chicago O'Hare Hotel & Conference Center
Located across the street from the Indian Boundary Golf Course, the Crowne Plaza Chicago O'Hare Hotel & Conference Center offers more than 500 guest rooms less than four miles from the airport. All rooms feature the Roomlinx Intelligent TV, which allows guests to access the Internet, listen to music, watch movies and shows and use Microsoft Office applications through the television. The hotel practices eco-friendly sustainability by using Energy Star appliances, low-impact cleaning products and high-efficiency plumbing. Guests can reach the airport via the complimentary shuttle service. This hotel is a pet-friendly establishment.
Holiday Inn & Suites Chicago O'Hare Rosemont
The Holiday Inn & Suites Chicago O'Hare Rosemont's complimentary 24-hour shuttle service picks up and drops off guests at O'Hare's terminals, just three miles away. The shuttle even has an on-board kiosk that allows guests to print up their boarding pass while on the way, thus cutting out time spent in line. The hotel itself has 300 guest rooms, each of which has a comfortable, contemporary design and comes with a flat-screen television, wireless Internet and double-glazed windows. The on-site restaurant, Harry Carays, is a Chicago staple, and serves steaks and Italian dishes in baseball-themed surroundings.