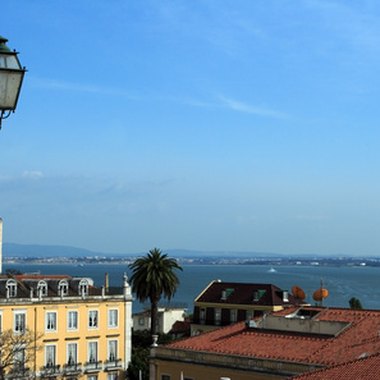 Although much of the old city of Lisbon was destroyed in an earthquake and tsunami in the mid-18th century, it was quickly rebuilt. Much of the city is therefore still quite historic by American standards, and so are many of its hotels. Visitors to Lisbon should have no trouble finding a comfortable hotel in the middle of the city with Old World roots and modern appointments.
Considerations
Tourist attractions in Lisbon are widely dispersed. Even the "downtown" neighborhoods of Baixa, Chiado, Bairro Alto and Alfama are spread out over an area more than two miles across and marked by high hills. Sights like the Gulbenkian Museum or the Tower of Belem are farther away still. While access to public transportation such as trams or the Metro is important, to properly see Lisbon will require at least a few cab rides, so visitors should worry more about local features such as restaurant availability than access to tourist sights when considering hotel location.
Bairro Alto Hotel
A New York Times Travel Pick and "Very Highly Recommended" by Frommer's, the Bairro Alto Hotel is the modern re-creation of Lisbon's oldest hotel. Situated in a building dating from the 18th century and around the corner from Praca Luis de Camoes, this 55-room boutique hotel offers a combination of contemporary design and Old World atmosphere. The Bairro Alto Hotel is also in the midst of Lisbon's main nightlife district. On the downside, Fodor's complained about small rooms and few amenities for business travelers.
Lapa Palace
The Lapa Palace was rated by Frommer's as one of the top hotels in Lisbon and as a five-star establishment by Turismo Portugal. The center of the hotel complex is a manor house dating to the 1870s, although four-fifths of the rooms are located in the modern, adjacent six-story building. The rooms are spacious and appointed in an 18th-century decor with plenty of traditional Portuguese marble fittings, and each room comes with its own balcony.
York House
A 17th-century convent turned boutique hotel, the York House is a New York Times Travel Pick and was featured as a bargain travel find by "New York" magazine. The hotel is not really that cheap, but it does offer tasteful, upscale accommodations at mid-range prices. The mix of Euro-modern and antique furniture in the rooms and public spaces will make the hotel a joy for home-decor aficionados, and novelists John Le Carre and Graham Greene are among the former guests.