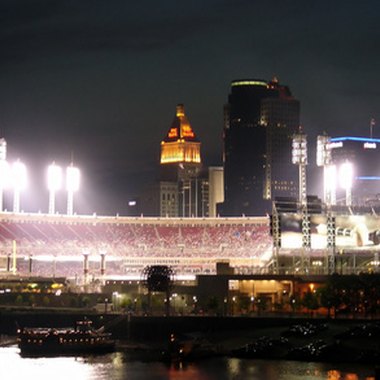 Cincinnati is Ohio's third largest metropolitan area and home to a bustling business district. The city is also home to many historical attractions, an international airport and an array of of tourist attractions. Travelers need not go far to find an abundance of hotels scattered around each of these city destinations.
Hotels Downtown
Downtown Cincinnati is a cultural hot spot among locals and tourists alike. Fresh markets, art galleries, museums, nightclubs and restaurants line the streets, and the area is also home to performance art venues and the public library. Visitors can stay in shape at one of downtown's many fitness centers, including a Pilates studio, a YMCA and two yoga centers. Guests who want to spend more than one day browsing the sites of the city center can stay at the Millennium Hotel in walking distance from Cincinnati Zoo and Great American Ball Park. Each of the 872 rooms at the hotel offer panoramic views of the city skyline, and a rooftop swimming pool lets guests relax with privacy and memorable views. Transportation services are available including local transfers, a car rental desk and valet parking.
Hotels Near the Airport
The Cincinnati Airport/North Kentucky Airport is the second largest hub for Delta Airlines. Located 13 miles from the city center, many hotels surround the airport, ready to accommodate both layover guests and those who wish to stay a while. Hotels are available for all budgets, and many provide shuttle services to and from the airport. The Comfort Suites is located just one mile from the airport and offers free shuttle service between 5 a.m. and midnight each day. According to hotel staff, a park, stay and fly package is also available for $79.99 and includes two weeks of parking. A hotel business center provides business travelers with copy and fax services as well as Internet access. A heated indoor swimming pool is open year-round, and the Comfort Suites complimentary daily breakfast keeps guests from flying on an empty stomach.
Historical Hotels
Many travelers visit American cities in a quest to experience the history of the area and the hidden jewels treasured by the city's locals. Often, old hotels reflect the history nostalgia that these travelers are looking for. For Cincinnati, the Hilton Netherland Plaza does just that. It opened in 1931 and was then and is now described by many as a "city within a city." The French art-deco structure is adorned with Brazilian rosewood, ceiling murals, fountains and German silver. When it opened, the hotel's indirect lighting, high speed elevators and internal broadcast system were unprecedented by any other hotel during that time. Concierge services are available at the hotel, as well as an indoor lap pool, a sauna, three restaurants and 46,000 square feet of meeting space.
Hotels Near Attractions
Cincinnati boasts many attractions for travelers of all ages and interests. The city's botanical gardens, observatory, zoo, museums and amusement parks are just some of the attractions that lure vacationers and weekenders to the area. Many hotels are positioned close to the area's attractions including the Doubletree Guest Suites in the northern section of the city. Located just five miles from both Kings Island Amusement Park and The Beach Water Park, this family-friendly hotel provides guests with childrens' menus, cribs, high chairs and a budget-friendly complimentary breakfast. The Doubletree Guest Suites also offers special packages that include overnight accommodations and tickets to local attractions such as the Cincinnati Zoo and the Newport Aquarium.
Photo Credits
great american ballpark at night image by Richard Seeney from Fotolia.com