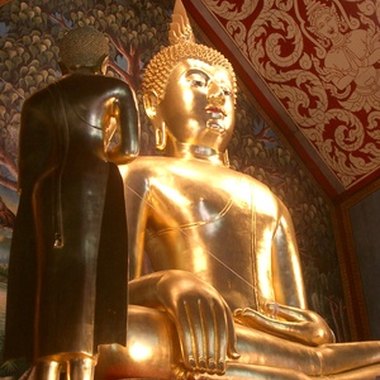 Situated in the forests of northern Thailand, Chiang Mai has long been a fixture on the backpacker's circuit, and as a result is stuffed with budget guesthouses and hotels. While inexpensive, those accommodations are often spartan and almost invariably lacking in air conditioning, and are best avoided by travelers who demand at least a few creature comforts. Thankfully, the city also has a selection of conveniently placed hotels and boutique resorts.
Considerations
Most of the sights to see in Chiang Mai are concentrated inside the city walls, an area of roughly one square mile. Visitors who prefer to explore places on foot should place a premium on staying inside the walls. The tourist district to the west of the old city is packed with hotels, bars, restaurants and shops, but has little in the way of temples and monuments. Business travelers and longer-term visitors who are studying in Chiang Mai, on the other hand, may prefer a hotel located outside the walls and closer to their particular point of interest.
Chiang Mai Orchid
While it is not inside the old city walls, the Chiang Mai Orchid still occupies a convenient location in Chiang Mai. This mid-range hotel is situated in the tourist district located just two blocks outside the walls of the old city, on the same city block as the Gad Suan Kaew Shopping Complex. Much of the decor in the hotel is drawn from the tradition Thai taste in hardwoods, from the teak pillars in the lobby to the woodcarvings that decorate the spacious rooms.
Holiday Inn Chiang Mai
For those who crave a little chain hotel predictability, the Holiday Inn has an outpost situated on the Ping River, with Frommer's describing it as a place of "comfortable familiarity." The high-rise building used to be owned by the Sheraton chain, so the standards are in some respects a bit above what one might expect from the typical mid-ranging Holiday Inn, and the hotel is an ideal spot for business travelers. Although the location is inconvenient for walking into the old part of Chiang Mai, taking a tuk-tuk or taxi reduces the trip to five minutes.
The Rachamankha
The Rachamankha is a boutique resort located inside the city walls and around the corner from Wat Phra Singh, one of the more ornate temples in Chiang Mai and home of one of the statues claiming to be the Phra Buddha Sihing. Frommer's adored the contemporary style, terra-cotta tile floors and high ceilings, giving the Rachamankha an "Exceptional" rating and labeling it "by far the best abode within the city walls. Fodor's was less enthusiastic, calling the neighborhood "shabby" and the rooms "too spartan for some."
Photo Credits
temple a chiang mai image by benjamin cabassot from Fotolia.com