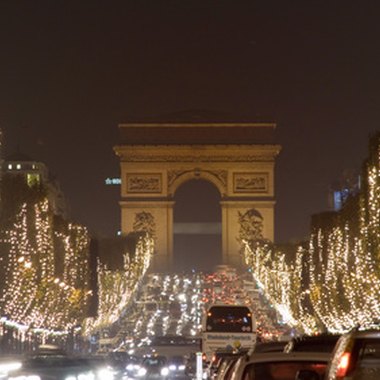 "To be Chateaubriand, or nothing," wrote Victor Hugo of François-René de Chateaubriand, father of French Romanticism. But for all his political and literary passion, it is doubtful Chateaubriand could have afforded a hotel on the quiet street that bears his name in Paris today. Located near the celebrated "Triangle d'Or" -- the luxury area bordered by the avenues Montaigne, George V and the Champs-Elysées -- on the glittering right bank of Paris, the rue Chateaubriand houses some of the most exclusive accommodations Paris has to offer.
Hôtel Chateaubriand
Relax in the quiet luxury of a 19th century residence turned four-star hotel, in the heart of the heart of Paris. The Hôtel Chateaubriand is a small, elegant hostel two minutes from the Champs-Elysées with 28 spacious rooms of understated elegance in the best French tradition. Double window-panes make outside noise a non-issue, but beware of noisy neighbors in the next room. And for all its patina of elegance, service at this hotel is not always equal to its exalted rates.
Hôtel Mayflower
Nobody can dispute the exceptional location a few steps from the Arc de Triomphe but, that aside, the Mayflower is not an exceptional hotel. The 24 rooms are not, perhaps, smaller than other Paris hotels, the beds not less comfortable. But given the price and the the posh location, one expects more. In short, the three-star Mayflower offers small, nice rooms that might be cleaner, and a friendly, helpful staff in the golden heart of Paris. And you can bring your dog along.
Hôtel Atala
With 48 rooms, the Atala is far and away the largest hotel on the rue Chateaubriand and also the most modern. If your taste runs to spacious, artsy lobbies and calm, simple rooms, the Atala will surely seduce you. Add to this room-balconies large enough for breakfasting, unexpected views and a central garden cafe. Despite its modern look, the Atala offers old-world hospitality and a staff that really knows how to offer service.
Hôtel Residence Lord Byron
Another small, well-located hotel, the Lord Byron is less grand and less expensive than its neighbors. The Hôtel Lord Byron feels more like a homey oasis than a "residence de luxe." Small, clean rooms are modest and perhaps a little staid, but some boast great views of the Tour Eiffel. The suites offer more space, and you can't beat the shady garden in the central courtyard. Very welcoming staff and low price for the area may make up for less-than-new beds.
Photo Credits
champs elysee at christmas image by Emrecan Dogan from Fotolia.com