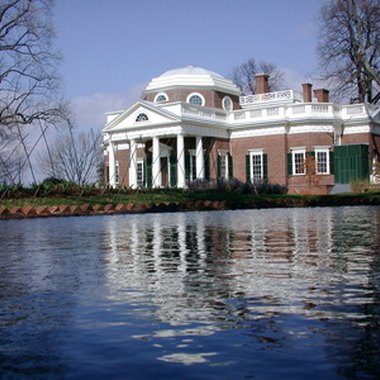 Charlottesville, in the foothills of the Blue Ridge Mountains, is perhaps most famous as the site of Thomas Jefferson's home, Monticello. The city supports a top-notch university and a healthy arts scene. Chain hotels in Charlottesville tend to be located in the northern parts of the city, where shopping malls have replaced farmers' fields. In-town hotels have strong connections to the area's history.
University
Thomas Jefferson's ideal "academical village" is the centerpiece of the University of Virginia in Charlottesville. The AAA Two Diamond Cavalier Inn, on the university campus, offers both standard rooms and suites. The hotel has an outdoor pool and offers hot self-serve breakfast daily. Shuttle service runs on the hour between the campus, the Amtrak station and the airport. English Inn of Charlottesville promises traditional British hospitality in a first-class hotel. The hotel has an indoor pool and exercise room, and guests have privileges at nearby Gold's Gym. Standard rooms and suites have two double beds or one king-sized bed.
In Town
The Inn at Court Square is the oldest existing house in Charlottesville. The inn, built in 1785, features dark woodwork and plush furnishings. Six rooms in the 1785 house have private baths and luxury accoutrements. The adjacent 1920 house faces Court Square and houses a two-bedroom suite. Accommodations include breakfast, and the inn's restaurant is open for lunch and dinner. A few blocks away, 200 South Street Inn offers rooms in the main house and cottage. Built in 1856, the house has served as a girls' finishing school, as a boarding house and as a brothel.
Along the Interstate
Interstate 64 skirts the southern border of Charlottesville, connecting Richmond to the east with Interstate 81 to the west. Chain motels along the interstate include Hilton Garden, Comfort Inn, Sleep Inn and Holiday Inn. Affordable Suites of America, just off the interstate on Harris Road, is an economical extended-stay property. Suites have full kitchens and separate bedrooms with either double beds or a queen-sized bed. Check the company's website for occasional discount offers on weekly and monthly stays.
Luxury Accommodations
Keswick Hall, an Orient Express property, made Travel + Leisure's 2010 top 500 list of the World's Best Hotels. Guests at the huge mansion, surrounded by a 600-acre estate, choose from 350-foot standard rooms, rooms with balconies and suites with terraces overlooking the Keswick's 18-hole Arnold Palmer golf course. The spa offers massage therapy and salon services including Keswick's signature Vinotherapy Regimen, in which each part of the grape is used in massage, facials and body scrubs. Dining options include poolside service, three restaurants and two bars. Keswick Vineyards, located about five miles away, hosts wine tastings daily.