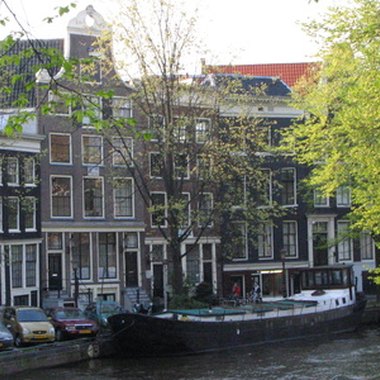 Amsterdam has a slightly bipolar nature. On one hand, it's known for its liberal attitudes toward sex and drugs. On the other hand, it is filled with history and charm, making it one of Europe's most beautiful cities. Its array of hotels reflect both of these traits. Luxury hotels mingle freely among smaller guest houses and historic hotels, putting you close to the many tree-lined canals and coffee shops that characterize the city.
Crowne Plaza Hotel Amsterdam City Centre
The Crowne Plaza puts guests directly across from the main train station. From here, guests have easy access to the historic Red Light District, the fashionable Jordaan District and Dam Square. The hotel was built within six historic Dutch houses, giving it a unique exterior that opens up to a newly designed, modern interior. The rooms have a casual upscale style and come with flat-screen TVs and wireless Internet access. Guests can relax at the sauna, work out in the fitness center and enjoy Dutch and international cuisine in the on-site restaurant.
Sofitel Amsterdam the Grand
The Sofitel Amsterdam is across from a canal in the city center near the historic University of Amsterdam's main campus. Much of the hotel's interior underwent renovation in 2010. The cocktail bar engulfs guests in an artsy modern setting where they can sample raw seafood dishes like oysters and caviar. For a more traditional meal, the on-site restaurant offers French-inspired meals. Guest rooms overlook the canal or inner courtyard. For relaxation, guests have access to a spa, Turkish bath, indoor pool and fitness center.
Hotel Die Port van Cleve
Guests of the Hotel Die Port van Cleve stay within a block from the Singel canal and just steps from the Red Light District. Much of the hotel has not changed since its original construction in 1864, lending a bit of history to each stay. The interior design of the bar dates back to 1880 and has a traditional feel with dark wood walls. It features an authentic Delft blue tile fresco from 1887 and serves traditional Dutch food and drinks. Guest rooms come with standard upscale amenities.
The Bulldog Hotel Amsterdam
Part hostel, part luxury hotel, part coffee shop, the Bulldog Hotel Amsterdam embodies everything that has made the city famous. The hotel's atmosphere is fueled by the influx of typically younger international travelers. For those looking for a quiet night, this is not the place. The luxury rooms have a hip and chic feel with vibrant wall decorations, slanted ceilings and flat-screen TVs, and they feature views of the canal. Guests can rent private apartments that have living rooms and two or three bedrooms. The Bulldog's restaurant serves traditional bar food like burgers, club sandwiches and french fries; it also has a nightly happy hour with half-price drinks.