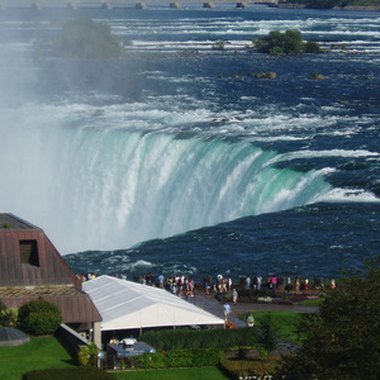 Labeled the "seventh natural wonder of the world" by Frommer's, Niagara Falls is a major tourist attraction on either side of the American and Canadian border. On the Canadian side, Niagara Falls, Ontario, comes with plenty of hotels, restaurants and other tourist services, but that town is not necessarily the only or even the best place to stay on the Canadian side of the river. Some visitors might find other nearby Canadian towns more appealing.
Considerations
Frommer's labeled Niagara on the Lake, a historic town on Lake Ontario and15 miles north of the falls, as a "far more scenic and charming option" than Niagara Falls. Visitors interested in other attractions in the region beyond the falls, such as the Niagara wineries, might find Niagara on the Lake an attractive and convenient alternative.
Sheraton Fallsview Hotel
Most of the rooms in this high-rise Sheraton have what Fodor's describes as "breathtaking views of the falls," and many have balconies as well, features which led both Fodor's and Frommer's to profile the hotel in their guides to the Niagara Falls area. The Sheraton also offers a set of two-night getaway packages for both adults and families that include features such as all-day water park and/or casino passes.
Fallsview Casino Resort
Travelers who are at least as interested in gambling as in Niagara Falls and who are in search of upscale accommodations can head straight to the source at the Fallsview Casino Resort. In addition to the gaming, the resort has an entertainment complex with a theater, spa and 10 restaurants. The chandeliers and frescoes give the hotel an elegant feel. Frommer's considers it a "luxurious" place to stay, while Fodor's labeled the rooms "bright and colorful."
The Old Bank House
Located in Niagara on the Lake, the Old Bank House a historic Georgian building that was erected in 1817 to serve as the first branch of the Bank of Canada. Frommer's labeled the Old Bank House "charming," and the inn is a "New York Times Travel" choice for the area. Many rooms have balconies and private entrances, one has a trellised deck, and the inn's sitting room comes appointed with comfortable antique furniture and a fireplace.