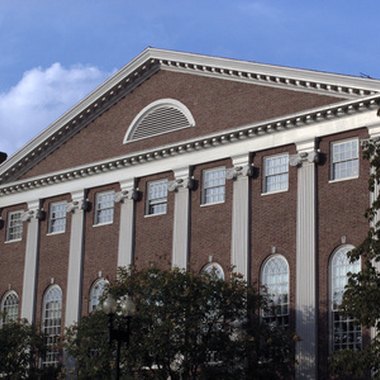 Sitting across the Charles River from Boston, Cambridge is the home of such prestigious institutions of higher learning as Harvard University and the Massachusetts Institute of Technology (MIT), and is a magnet for tourists interested in the historic attractions of Boston. Cambridge is a city in its own right and covers a large area, so a hotel convenient to Harvard Yard might not be so well located for exploring the historic sights of the "Cradle of Democracy."
Location
The city of Cambridge covers more than six square miles, so particular points of interest might be far apart. MIT and Harvard are separated by more than two miles, while Harvard is more than four miles from the USS Constitution and that part of the Freedom Trail which is on the north bank of the Charles River. Tourists who wish to use Cambridge as a base to explore Boston and Charlestown should stay in East Cambridge, and any visitor should note how close his hotel is to a station of the Boston's metro, known locally as "the T."
The Charles Hotel
Bearing an "Exceptional" rating from Frommer's, a three-star stamp from Forbes Travel and a Fodor's Choice award, the Charles Hotel is one of the top hostelries in Cambridge. Located just off Harvard Square, the decor is inspired by New England Shaker culture and combines the contemporary with the old-fashioned. Mix in some cutting-edge amenities, and you have a hotel where guest rooms will feature Bose radios and handmade reproduction quilts side-by-side. The Charles Hotel also earned high marks for its gracious and attentive service.
Hotel Marlowe
Located in East Cambridge, this boutique hotel is next door to the CambridgeSide Galleria and the Museum of Science, and is a 10-minute walk from MIT. The hotel decor sports a vivid, whimsical decor with stripes, swirls and leopard-print pillows and carpeting, creating what Frommer's calls an "elegant yet fun" look. The rooms in this efficient, eco-conscious hotel are compact (some have only showers rather than shower-baths), but all rooms are large enough to include a work desk.
The Inn at Harvard
Set in a Georgian-style building off Harvard Yard, the Inn at Harvard blends in with its Ivy League surroundings. The rooms are bright and furnished in a contemporary fashion with a neutral-toned decor, and feature big windows with views of Harvard Square and the Yard. The hotel's four-story skylight atrium serves as the lobby, lounge and restaurant, and is appointed with plush furniture that would not be out of place in an upscale, recently renovated university library.
Photo Credits
harvard university image by Stephen Orsillo from Fotolia.com