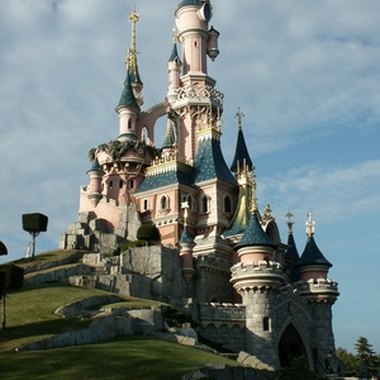 When Disneyland opened in 1955, there were only five hotels and two motels in Anaheim available to overnight visitors. Over 21 times that number of lodging choices now exist within easy walking and driving distance of this popular amusement park and feature amenities and package deals -- including discounted admission tickets -- to accommodate every vacation duration and budget.
Disney-Owned Properties
The Grand Californian, Disneyland Hotel and Paradise Pier represent the priciest end of the spectrum and are each literally a stone's throw from all the action of Disneyland, California Adventure Park, and the shops and restaurants of Downtown Disney. In addition to their swimming pools, fitness centers, business centers and on-site licensed daycare, these Disney-owned resorts offer free Wi-Fi, suites with kitchens, continental breakfast, discounts for multi-night stays, and early admission to the park on select days.
Family-Friendly Suites
Residence Inn Anaheim Maingate caters to families by providing complimentary buffet breakfasts, fully-equipped kitchens for in-room meal preparation, barbecue grills, an on-site laundromat, and its own market for deli and grocery purchases. Embassy Suites offers free breakfasts as well as free evening beverages, a coin laundry and snack shop, swimming pool, fitness center, and cribs and playpens upon request. Peacock Suites provide guests with kitchenettes, free Wi-Fi, free breakfast, a heated pool, and up to 25 percent discounts for advance purchases.
Budget Accommodations
For visitors who want to save their money for Disney souvenirs and dining at the park's restaurants, Carousel Inn and Suites, Hotel Pepper Tree, and Quality Inn and Suites are a smart value. Carousel Inn and Suites offer kids' suites with bunk beds along with free breakfast, kitchenettes and a rooftop pool. Hotel Pepper Tree is an extended-stay venue with full kitchens, a $6 per-day per-room full breakfast for all family members (as of 2010), free parking, discounted manager specials on room rates, and Disney tickets sold at-cost. Quality Inn and Suites offers free Wi-Fi, free breakfast, free local calls, and rooms with refrigerators and microwaves.
Pet-Friendly
The Sheraton Anaheim, Lemon Tree Hotel, and Towneplace Suites all put out the welcome mat for quiet and well-mannered family pets but recommend querying in advance of your arrival regarding weight restrictions and current fees. In all three venues, pets must be on a leash in public areas and on the grounds. You're also not allowed to leave dogs alone in your room. Fortunately, Disneyland has its own daytime Kennel Club for a daily rate of $20 (as of 2010).
References
"Everything Family Guide to the Disneyland Resort, California Adventure, Universal Studios, and the Anaheim Area"; Betsy Malloy; 2007
"Fodor's Disneyland and Southern California with Kids"; Fodor's; 2008