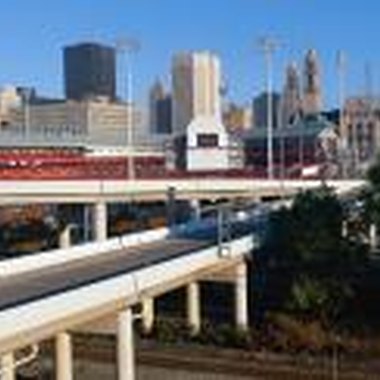 There are at least a dozen hotels within shuttle distance of Buffalo Niagara International Airport, which is technically in Cheektowaga, New York, just northeast of Buffalo. Most are members of a hotel chain such as Holiday Inn or Clarion. If you will have a car during your visit, you also might consider hotels in downtown Buffalo, or farther north near Niagara Falls.
Hotels Within a Mile of the Airport
A variety of standard, moderately priced chain hotels serve travelers in the immediate vicinity of Buffalo Niagara International Airport. Just across the street you'll find the Hilton Garden Inn and a Fairfield Inn and Suites. Clustered nearby and with shuttle service are a Days Hotel, Quality Inn, Sleep Inn, Holiday Inn, Comfort Suites and Best Western, among others. Most of the chains offer similar amenities, including fitness facilities, wireless Internet and continental breakfast. Many also cater to business travelers by including conference rooms and offering printing and faxing services.
Downtown Hotels
Downtown Buffalo features high-rise hotels like the Hyatt Regency, Embassy Suites, Hampton Inn and Suites and the Doubletree Club, all of which were rated three diamonds by AAA. Staying downtown puts you close to two homes designed by Frank Lloyd Wright, the Darwin Martin house and the Graycliff estate, both of which are open to the public. Art lovers can tour the Albright Knox Art Gallery. Depending on the season, sports fans can check out Buffalo Bills football games or Buffalo's professional hockey team, the Sabres. Most downtown locations are about a 15- or 20-minute drive from the airport and about 30 minutes from Niagara Falls.
Bed and Breakfasts
Buffalo offers a few bed and breakfasts with homey amenities. Beau Fleuve, an 1882 property about a mile and a half from downtown in Buffalo's historic preservation district, has five guest rooms and features a candlelight breakfast in the morning. About 20 minutes north of the airport in Clarence, New York, is the Asa Ransom House, a country estate with 10 guest rooms. Guests can enjoy traditional English afternoon tea, and the estate also is home to an upscale restaurant with occasional dinner theater.
Boutique Hotels
AAA's highest rating for the Buffalo area, four diamonds, goes to a luxury hotel called The Mansion on Delaware Avenue, a converted 1869 mansion where rates include 24-hour butler service, European breakfast and evening cocktails. Guests also can order in-room spa treatments. Near the airport, the Hotel Indigo is part of an upscale chain of boutique hotels with modern decor, large meeting rooms and a gourmet restaurant in the lobby.
Photo Credits
Stockbyte/Stockbyte/Getty Images