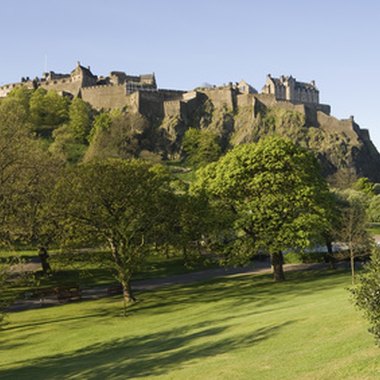 The Bruntsfield neighborhood in Edinburgh, Scotland, is a compact area centered on the Bruntsfield Links, part of the larger park called simply the Meadows. Set a mile south of Edinburgh Castle, Bruntsfield Links is a short-hole golf course with 36 holes created over a century ago, but golf has been played on the site since the 17th century. Bruntsfield has only a couple of full-service hotels, but these are supplemented by a selection of bed and breakfast establishments. ,
Best Western Bruntsfield Hotel
Set on the edge of the Bruntsfield Links, the Best Western Bruntsfield Hotel is housed in a handsome terrace of four converted Victorian townhouses built in the honey-colored sandstone so typical of Edinburgh. The on-site Bisque Brasserie serves a modern international menu with a Scottish character, while the Bisque Bar serves snacks and sandwiches. A few minutes' walk from the hotel is the King's Theatre, an important Edinburgh venue for drama. Almost on the hotel's doorstep, the Golf Tavern overlooks the links and serves a contemporary Scottish menu.
Ellesmere House
Ellesmere House is a bed and breakfast hotel overlooking the Meadows and set in a 19th-century Edinburgh townhouse where the rooms have a combination of traditional and contemporary decor and furnishings. Breakfast is made with locally sourced ingredients, including free-range eggs from a farm just on the edge of Edinburgh. Adventurous guests can try porridge with a "tot" of malt whisky. Nearby restaurants include the Absolute Thai and Imans, which serves Indian dishes from the Punjab.
The Royal Ettrick Hotel
A 15-minute walk from Bruntsfield Links, the Royal Ettrick Hotel is set in a Victorian property with gardens and a raised sundeck. The on-site Conservatory Restaurant serves an international menu with al fresco dining available in the summer. The Athletic Arms, or the Diggers as locals call it, is a 10-minute walk from the hotel. This determinedly traditional pub is something of an Edinburgh institution and always busy serving frothing pints of locally brewed 80-shilling ale in a convivial atmosphere.
Valentine City Centre Guesthouse
The Valentine City Centre Guesthouse, a five-minute walk from Bruntsfield Links and a 15-minute walk from Edinburgh Castle, is set in a Victorian family home from the 1840s. A full cooked breakfast, including Scottish favorites such as black pudding and haggis, is served each morning. Dining options within a few minutes' walk include the Number 1 Sushi Restaurant and the Everest, which serves Indian and Nepalese dishes. For a drink in the evening, visit the nearby Auld Toll Bar, which features a beer garden.
Photo Credits
edinburgh castle image by Louise McGilviray from Fotolia.com