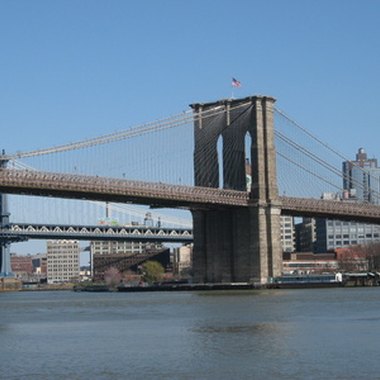 Brooklyn once served as an alternative for those who could not afford to stay in Manhattan. Then, the influx of artists, dancers, actors, writers and musicians who moved to Brooklyn created vibrant, artistic communities. Some designed new buildings, while others renovated older ones. Once borough planners realized that Brooklyn had become a destination, developers started building new hotels. Marriott, Best Western and Sheraton now compete with a selection of Brooklyn boutique hotels.
Big-Name Hotels
The New York Marriott at the Brooklyn Bridge is 1 1/2 miles across the water and one subway stop from Lower Manhattan. While convenient to those doing business in Manhattan's Financial District, this Brooklyn hotel has an ample number of meeting rooms and business amenities. Take time to explore the surrounding Brooklyn Heights neighborhood, where the poet Walt Whitman lived and wrote "Leaves of Grass," and Harriet Beecher Stowe wrote "Uncle Tom's Cabin." The Best Western Arena Hotel is in downtown Brooklyn, close to Prospect Park and the Brooklyn Children's Museum, and the Sheraton Brooklyn New York Hotel, also in downtown Brooklyn, is one mile from the Brooklyn Academy of Music.
BoCoCa Neighborhood
The Nu Hotel is located in the neighborhood called BoCoCa. The name is actually an umbrella term used for three neighborhoods. Boerum Hill, characterized by its tree-lined streets, French bistros and open-air kitchens; Cobble Hill, known for its parks and Old World shops; and Carroll Gardens, an Italian neighborhood famous for its antiques stores. Rooms at the Nu Hotel are loft-inspired, with hammocks, bunk beds, cork floors and organic sheets. There's a good deal to see in the immediate hotel neighborhood, but if you want to see the rest of the city, ask about the MTA Transit Package, which includes a $20 Metro Card, good for transit throughout all five boroughs.
Williamsburg Neighborhood
Hotel Le Jolie is located in Williamsburg, Brooklyn, an ethnically diverse neighborhood known for its art galleries, boutiques, trendy restaurants and nightlife. The hotel is close to Brooklyn's iconic pub, the Brooklyn Brewery. Hotel Le Jolie's Brooklyn Brewery Package includes accommodations, breakfast and tokens for two on-tap beers at the Brooklyn Brewery.
Park Slope Neighborhood
Hotel le Bleu boasts a prime location in Brooklyn's upscale Park Slope neighborhood. Victorian brownstones line the neighborhood streets, but when you enter Hotel le Bleu, you have arrived in the 21st century. The rooms, with their modern decor, have state-of-the-art workstations and giant, flat-screen television sets. Il Tetto, the hotel's rooftop restaurant, serves Sicilian-style food.
Photo Credits
Brooklyn Bridge image by Marta Reimpell from Fotolia.com