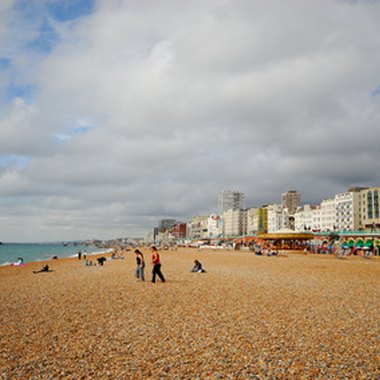 Located in southwest England, in the district of Brighton and Hove, Brighton is a favorite beach town for residents and tourists alike. The city's hotels quickly fill during national holidays, particularly when the weather is warm. By planning ahead or visiting during the off-season you can easily book a Brighton hotel just steps from sea.
The Kings Hotel
Once three private residences from Regency times, the owners of the Kings Hotel purchased the properties and converted them into a lodging facility on the sea. This three-star hotel is located in the heart of Brighton's city center, opposite a children's playground that has swings, sandboxes and wading pools. The en-suite rooms at the Kings Hotel exude mixed traditional and modern interior design for a chic look, and many have ocean views. Offering only basic amenities, the King Hotel can provide its guests with flowers, champagne, wine, dinner, mineral water, corporate cash and a sack breakfast for an additional charge.
Sea Spray
Only a couple of yards from the beach, the Sea Spray hotel is located only minutes away from Brighton Pier. This four-star hotel offers themed rooms with sea views that include a New York-themed penthouse suite, Japanese-inspired double room and an opulence-themed superior suite, among others. To help make your stay at the Sea Spray as enjoyable as possible, the hotel offer packages for couples, booking services and room service.
Umi Hotel
Part of a budget-friendly chain of hotels is the Umi Hotel in Brighton, located between the West Pier and the Palace Pier. This hotel is across the street from the sea and a five-minute walk to the shopping district of Churchill Square. Accommodations at the Umi Hotel range from single rooms to triple rooms for families or a group, and all the rooms have en-suite bathrooms. Amenities include use of an off-site gym and recreational facility and a free Queue Jumper Ticket at the Oceana Nightclub.
Royal Albion Hotel
Built in 1826, the Royal Albion Hotel is located in front of the Brighton Pier. Only a short walk away is the Palace Pier, Brighton Pavilion and the Brighton Conference Centre. The Royal Albion is a Regency-style establishment with traditional English decor that offers rooms with views of the sea. Services include car rentals, currency exchange, handicap-accessible rooms and non-smoking rooms.
Photo Credits
plage de brighton (uk) image by Jerome Dancette from Fotolia.com