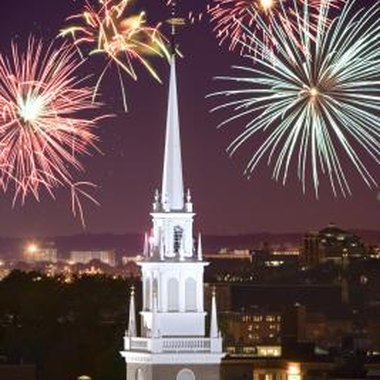 The Boston Pops Fourth of July concerts on Boston's Charles River Esplanade were a local event until the early 1970s when the addition of carillons from several nearby churches, a cannonade of howitzers and a spectacular fireworks display turned Tchaikovsky's "1812 Overture" from a show-stopping finale to a national institution. Today, more than 35 years later, the event attracts hundreds of thousands to the riverside and nearby hotels as well as millions who watch the CBS television broadcast. Most of the good hotel vantage points for Boston's fireworks are on the Cambridge side of the Charles River.
Liberty Hotel
One of the few good Boston hotel viewpoints for the fireworks display is the Liberty Hotel, an inventive conversion of the former Charles Street Jail. Though the hotel entrance, bars, restaurants and a small number of rooms are in the 19th century landmark granite building that was the jail, most of the 300 rooms are in a tower alongside. The tower's west-facing, riverside rooms provide the best vantage point for watching the fireworks -- while perhaps listening to the concert that precedes them on the radio. When booking, make sure to request a room above the level of the old jail building since it could block the view.
Royal Sonesta in Cambridge
This hotel, by the Charles in East Cambridge, is one of the best places from which to watch the fireworks. Southwest-facing rooms are the ones to request if you want to watch the display from the comfort of your own room rather than from the hotel's restaurant and bar -- both of which also offer good views. The Sonesta was one of the first luxury hotels built beside the Charles in the 1970s, but it has kept up with the times and offers a contemporary standard of luxury accommodation. The hotel attracts family guests for the fireworks holiday weekend.
Boston Marriott Cambridge
This high-rise hotel, about 500 yards from the river on the Cambridge side, provides a good vantage point that is close without being in the midst of the milling crowds along the riverbank. The hotel has 421 traditionally furnished rooms over 26 floors. A luxury hotel, the Boston Marriott is near the Kendall Square/MIT MBTA station, usually called the "T," with good access to downtown Boston for shopping and sightseeing, as well as Harvard Square.
Hotel Marlowe
The Hotel Marlowe, on the Charles River bank in East Cambridge, is a quirky luxury boutique. Rooms have animal print carpets, fake fur throws and vibrant color schemes. The huge spiral staircase in the hotel's lobby is a much-photographed feature. This hotel, part of the Kimpton group, is pet friendly and sets no limits on the number or weight of dogs, does not charge additionally for pets and offers repeat pet visitors special treats. During Boston's fireworks, guests should not be surprised at a certain amount of barking taking place.
Photo Credits
Thinkstock/Comstock/Getty Images