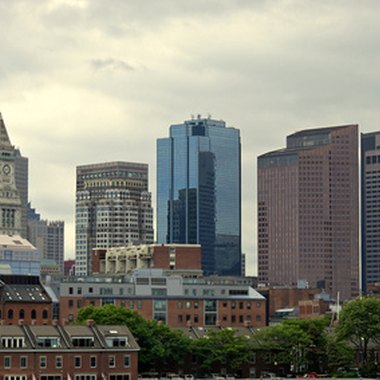 If you've ever visited the Boston University area of Boston, there's a good chance you've inadvertently visited Brookline. The entrance to some Brookline homes and businesses is actually on Commonwealth Avenue in Boston. Enter the building, you're in Brookline. Commonwealth Avenue is the only thing that the city and town have in common. Boston is the iconic urban destination, whereas Brookline, with its lavish Victorian homes, offers a countrified retreat from the city. Select a hotel convenient to both places, and maximize your time in Boston and Brookline.
Kenmore Square
Don't wear your New York Yankees hat if you stay in the Kenmore Square area. Once you get off the train, you have entered the Red Sox Nation. Fenway Stadium is nearby, as well as Boston University. Beacon Street, located in Brookline, crosses diagonally from Commonwealth Avenue in Kenmore Square, so this is one of those locations that puts you close to Boston and Brookline. The Boston Hotel Buckminster, built in 1894, is a pet-friendly hotel, which has 94 rooms and suites. While located in Boston's hip and trendy student district, the Boston Hotel Buckminster's mahogany furnishings invoke images of the old Brahmin Boston, where the Adams spoke only to the Cabots. Its rates, on the other hand, will appeal to the college crowd. As of November, 2010, economy-sized rooms were priced as low as $79. Continental breakfast is included in the room rate. Pet sitting services are available. Those who would prefer luxury accommodations should consider the Hotel Commonwealth, which offers high-end bath products, in-room spa services and 24-hour room service.
Near Boston College
Boston College is located in Chestnut Hill, an area that encompasses Boston, Brookline and parts of Newton. The Best Western Terrace Inn places you in close proximity to Boston College and Boston University, which is further east. Its location on Commonwealth Avenue means that its front entrance is in Boston, and its back doors are in Brookline. Rates include free continental breakfast, as well as free parking. This is a big issue in the Brookline area, which does not allow overnight on-street parking. The hotel offers a variety of special packages, such as the First Night package, offered on New Years Eve, and various sightseeing packages, which include admission to the museums and the New England Aquarium.
Coolidge Corner
Art houses, bookstores, boutiques and specialty gourmet food shops line the streets of Coolidge Corner, the hippest neighborhood in Brookline. Two hotels place you close to the action. The Courtyard by Marriott, located on Webster Street and Coolidge Corner, is a business hotel, whose amenities include a fitness center and a business center. Courtyard by Marriott offers discounts to seniors, military and government employees. The Holiday Inn Brookline located on Beacon Street , near Coolidge Corner, offers Bath and Bodyworks amenities, an on-site fitness center and a full-service business center. Breakfast is served in the Atrium Cafe, located in the hotel lobby.
Quintessentially Brookline
The Victorian homes that line the Brookline side streets may inspire a longing to stay in such a venue. The Bertram Inn cures any case of mansion envy. A wealthy tobacco merchant built the inn, a wedding present for his daughter, in 1907. Its architectural detail is indicative of its era. Oriental carpets, velvet curtains and four-poster beds fill the rooms. Packages that include in-room massages, as well as romance packages are available. The Samuel Sewall Inn, built in 1886, is housed in a restored, Queen Anne home, whose rooms feature floral wallpaper, cathedral ceilings and antique decor. The inn, owned by the same people who own the Bertram Inn, offers the same packages.
Photo Credits
boston skyline from harbor image by Stephen Orsillo from Fotolia.com