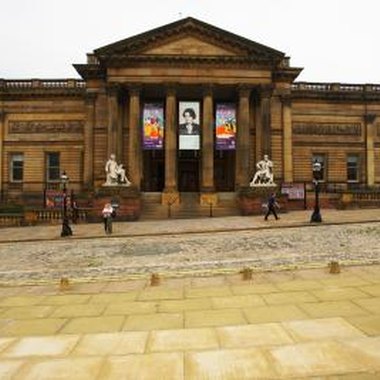 Bloomsbury, made famous by Virginia Woolf and her coterie of artistic and bohemian friends, is home to the British Museum,tThe University of London, the London School of Economics, the Royal Academy of Dramatic Art and many other world-famous institutions. It's where to find Charles Dickens' only existing London home, to poke around in antiquarian bookshops or to see the Magna Carta at the British Library. Two sober Georgian squares, Russell and Bedford, house publishing houses and literary agents as well as some outstanding tourist and business hotels.
Hotel Russell
This big hotel dominates one side of Russell Square overlooking the gardens in the center of Bloomsbury. It holds four stars through the Visit Britain/AA quality rating scheme. A 373-room hotel, the Russell was built in 1898 and designed by Charles Fitzroy Doll, who designed the grand facilities of the Titanic. According to authors Gill Davis and John Reynolds, writing in "One Thousand Buildings of London," the Russell's restaurant is almost identical to the dining room Doll designed for the ship. The hotel's public spaces retain original Victorian features. Rooms are contemporary with dark wood furniture and upholstered chairs.
Bloomsbury Hotel
CNBC named the Bloomsbury one of the world's top 25 business hotels in 2009. This dignified neo-Georgian building was the work of 19th and early 20th century architect Sir Edwin Lutyens, who also designed New Delhi. Part of the Irish-owned Doyle Collection, the Bloomsbury Hotel has 153 luxury rooms and 12 suites. Rooms are furnished to a high standard in a comfortable contemporary style. The hotel's traditional afternoon tea, featuring sandwiches, scones and clotted cream, and cakes is, at only £13.95 in 2010, one of London's great bargains.
Beauchamp Hotel
The Beauchamp, around the corner from the British Museum, is a 50-room townhouse hotel overlooking private gardens and the hotel's private terraces. Guest rooms here are larger than average for central London hotels, and some have separate sitting areas or work spaces. Contemporary furnishings are enriched with richly textured and colorful textiles. The hotel has a small restaurant and bar as well as fully equipped meeting and seminar facilities for small groups. A private piazza is available for small receptions.
myhotel Bloomsbury
The distinctly named myhotel Bloomsbury is one of a small group of British boutique hotels that follow feng shui principals in their layout and design. The group also own hotels in Brighton and Chelsea. Decor is minimalist but includes flashes of bright colors and tactile textures in wall and bed coverings. The hotel emphasizes well-being and has an "energy zone" with cardiovascular equipment and free weights, a treatment room offering eastern spa treatments using western, organic products, and a library where free coffee and daily newspapers are available throughout the day.
Resources
Hotel Russell; 1-8 Russell Square; Bloomsbury;London WC1B 5BE; 011-44-20-7837-6470
Bloomsbury Hotel; 16-22 Great Russell Street; London WC1B 3NN; 011-44-20-7347-1000
Photo Credits
Jupiterimages/Photos.com/Getty Images