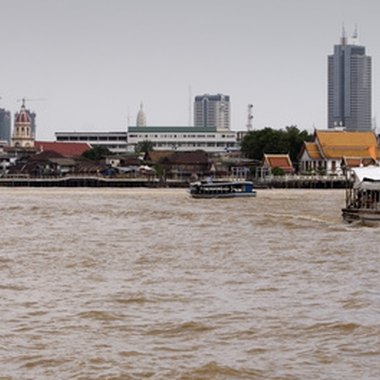 Bangkok is the kind of city where a cheap, spartan backpacker guesthouse can be found only a few blocks from one of the world's most lauded five-star hotels. However, the city is so large and offers its visitors such a vast range of lodgings that selecting the right hotel requires that great care be paid to more than just amenities and room rates.
Considerations
Bangkok is a sprawling megalopolis set on both sides of the Chao Phraya River, so even choosing a hotel in "downtown" Bangkok does not guarantee a good location. The downtown district of Silom is large enough that while hotels by the riverfront are convenient to many tourist attractions, a hotel located on the western end will be a few miles from the major sights. However, that same western Silom hotel might be a good location for seeing muay thai fights at the city's boxing stadiums. Visitors to Bangkok should consider what they want to do in the city carefully and consult a map before choosing a hotel.
Hilton Millennium
Fodor's awarded Bangkok's Hilton Millennium its "Fodor's Choice" award and named it one of the most "kid friendly" hotels in the city. Set in one of the most modern skyscrapers along the Chao Phraya River, this Hilton offers luxuries and amenities that compete with some of the most prestigious hotels in Bangkok, but at more reasonably prices. On the minus side, the rooms are sometimes thought to be small, and the hotel is situated on the west bank of the river, therefore across from rather than among Bangkok's main tourist attractions.
Lebua at State Tower
The Lebua occupies the State Tower, a 67-story high-rise in Silom, Bangkok's sprawling downtown commercial district. The hotel offers what Frommer's describes as "stunningly spacious" one-, two- and three-bedroom suites, all decorated in a contemporary fashion. The Lebua is considered a chic place to stay, with Fodor's regarding it as a hang-out for the "see-and-be-seen crowd." The State Tower is two blocks from the riverfront and from a Skytrain station, making the hotel equally convenient for tourists and business travelers.
The Oriental
A "New York Times" pick and rated by Frommer's as "exceptional," the Oriental is perched on the Chao Phraya next to a public water taxi station named after the hotel. The Oriental is the oldest in Bangkok, with its Author's Wing dating to the 1860s, and has seen steady expansion and renovation. The rooms are opulently appointed with Thai silks, while the hotel's Le Normandie is considered by Frommer's to be the best French restaurant in the city.