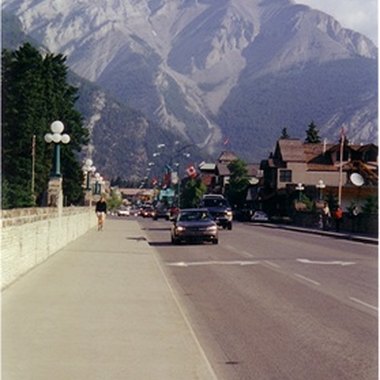 Banff, Alberta, attracts tourists to the heart of the Canadian Rockies. This small town offers easy access for hikers interested in seeing the Bow Falls and Spray River. Winter visitors can head to surrounding mountain ranges for skiing, snowboarding and snowshoeing. Downtown Banff accommodates the needs of tourists with shops, clothiers and restaurants. The lodging industry in Banff features hotels and inns that can accommodate travelers from around the world.
Boutique Hotels
Banff features a variety of boutique hotels that combine spacious accommodations with luxurious amenities. The Juniper Hotel & Bistro offers lobby and room views of Mount Norquay. This luxurious property maintains accommodations ranging from standard queen rooms to lofted chalets for large groups. Guests can sate their hunger with wine and steaks at the Juniper Bistro. A Banff Boutique Inn serves a hearty breakfast buffet each morning in the first-floor dining room. This boutique hotel features a lounge with games, books and paintings from local artists.
Bed and Breakfasts
Travelers interested in unique amenities in Banff can book accommodations at bed and breakfasts. The Homestead Inn Banff is a three-floor property set against the Cascade Mountain. This bed and breakfast equips each room with ample storage for snowboards, skis and other winter sports supplies. Guests pay daily rates for underground parking to stay out of the cold. The Mountain Home Bed & Breakfast features four rooms with views of the Bow River and Mount Norquay. This inn contains a lobby with a fireplace and library that encourage guest relaxation.
Riverfront Hotels
The Bow View Lodge is the sole hotel in Banff to provide accommodations along the Bow River. This riverfront hotel contains the Banff Park Lodge featuring clothing stores and a beauty shop. Guests can return from ski hills and trails to enjoy dinner at the hotel's Chinook Restaurant. Additional amenities like a gym, sauna and lap pool on the first floor cater to active guests. The front desk works with travelers to arrange discounted lift tickets and shuttle service to the Calgary International Airport.
Historic Hotels
Visitors to Banff can learn about the town's history at the Brewster's Mountain Lodge. This historic hotel celebrates the history of the Brewster family, who moved to Alberta in the late 19th century. Guests can glance at photos, journals and letters from several generations of Brewsters hanging in common areas. Brewster's Mountain Lodge establishes a rustic setting with wooden bed frames in each room and mounted animal heads in the lobby. The front desk staff can accommodate guest needs ranging from wine glasses to car rentals.