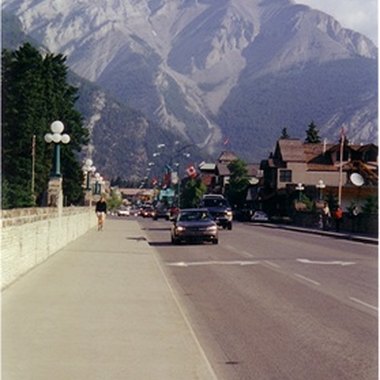 Banff is both the name of Canada's oldest national park and the largest town within that park. Surrounded by rugged mountains, wild forests and hot springs, Banff is one of Canada's most popular tourist destinations, whether it be for the hiking and fishing in summer or skiing and snowshoeing in winter. Although the location might be remote, Banff's enduring popularity ensures that the area has plenty of comfortable accommodations for its visitors.
Getting Around
Banff National Park encompass more than 2,500 square miles of Rocky Mountains wilderness. The town of Banff is walkable and has a selection of restaurants and shops, but only limited access to hiking and other outdoor sports. Hotels located outside of town have better access to nature watching, mountain biking and other pursuits, but their isolation limits dining and entertainment options. Due to the limited public transportation in Banff, visitors should either bring their cars or rent one during their stay -- regardless of where they stay.
Storm Mountain Lodge
Of the 23 hotels in the Banff area reviewed by Frommer's, the Storm Mountain Lodge was the only one to receive a "Very Highly Recommended" rating, and therefore their top-ranked hotel in the area. With its origins as a 1920s Parks Canada work camp, the Storm Mountain Lodge is authentically rustic. Accommodations consist of log cabins with big stone fireplaces arranged around a central lodge, also of log construction. On top of that, the lodge is located in the wilderness between Banff and Lake Louise, with hiking and ski trails running through the adjacent woods.
Banff Ptarmigan Inn
The Banff Ptarmigan Inn offers its guests mid-range accommodations (Canada Select rated the hotel 3.5 stars) in a chalet-style building located in downtown Banff. That places guests within a few minutes' walk of the shops and restaurants of Banff after a hard day spent in the great outdoors. Guests also receive free passes for the Roam bus system in Banff, providing ready transportation to places such as Tunnel Mountain, the Banff Upper Hot Springs and the Castle in the Rockies.
Fairmont Banff Springs Hotel
The Banff Springs is among that handful of hotels that is so iconic as to be instantly recognizable. The current mammoth building, modeled on a Scottish baronial castle, dates to 1928 and, according to Frommer's, remains "the signature hotel of the Rockies." The Banff Springs is among the most expensive options in the area, but that pays for the vast scale of the hotel's amenities and the service provided by a staff of 1,200. The hotel is situated in the shadow of the Canadian Rockies and just above Bow Falls, and within walking distance of the town of Banff.