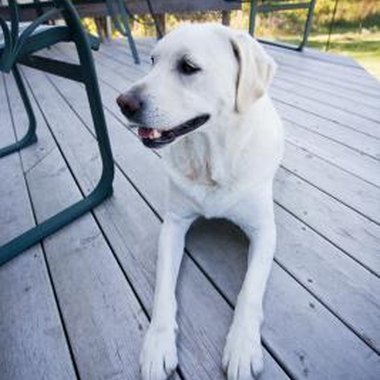 Anyone who has ever traveled with a pet knows that it is sometimes difficult to find decent hotels that will accept your furry friend. With a little research, however, travelers looking for accommodations in Virginia should be able to find lodging that will not only be accepting of your pet but also be more than acceptable for your stay.
Chain Hotels
Several chains have a reputation for being pet friendly. The La Quinta Inns & Suites and Red Roof Inns are two chains that, as of 2010, accept pets at all their locations. The Red Roof Inn hotels will accept one family pet per room. The pet must be well-behaved and not an animal that is illegal to possess. The Red Roof Inn has 12 locations in Virginia, as of 2010, and it does not charge any extra fees for pets. The La Quinta Inns chain has 10 locations in Virginia, as of 2010. Its pet policy varies by hotel.
Boutique Hotels
Boutique hotels are usually smaller facilities that try to set themselves apart from larger chain locations by offering more personalized services and stylish settings. To that end, some Virginia boutique hotels have also gone the extra mile to make pets and their owners feel extra welcome. The Hotel Monaco in Old Town Alexandria, for instance, greets pets with a doggie goodie bag that has a gourmet treat, a pet toy and a list of pet parks. Pets are provided a bowl and bed, as well.
Bed and Breakfasts
Many people prefer the homey atmosphere of a bed and breakfast and, luckily, a number of Virginia B&Bs are pet friendly. Since these inns are run by individual proprietors, rules, policies and fees vary greatly. Virginia bed and breakfasts can be found throughout the state -- from the beaches to the mountains -- and are often the perfect choice for the more rural areas where larger lodging choices may not be available. The Channel Bass Inn in Chincoteague is a pet-friendly seven-bedroom inn. Some of the Channel Bass Inn's rooms have views of the Chincoteague Bay.
Luxury Hotels
Today, many luxury hotels recognize that some of their guests prefer to travel with their pets and have reacted accordingly. In Virginia, for instance, the Ritz Carlton in Tysons Corner, which Conde Naste Traveler readers voted as one of its top 50 hotels in the United States, accepts dogs for a fee. It does not, however, accept other animals. The Jefferson Hotel in Richmond, Virginia, which has been awarded five stars by Forbes and five diamonds by AAA, also accepts dogs for a fee.
Overview
The rules and fees for pet-friendly accommodations vary greatly and can change without warning, so travelers need to verify policies and prices before booking a room. Comparing costs are important as some pet-friendly hotels will charge a one-time fee, while others charge daily fees, and still others will charge nonrefundable or refundable cleaning deposits. Policies regarding the types of animals allowed in a hotel also vary, so check with an establishment before bringing an exotic animal or even a cat.
Photo Credits
Jupiterimages/Photos.com/Getty Images