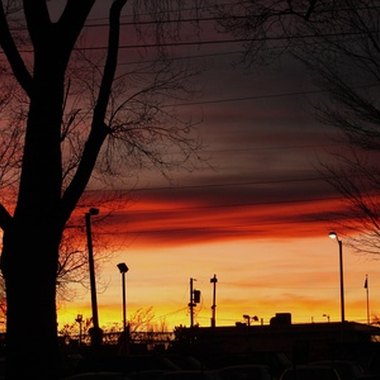 In Albuquerque, people can find a variety of places to go shopping, including an outdoor shopping plaza, Native American jewelry shops and southwestern clothing boutiques. In Albuquerque's Westside neighborhood, people can shop at the Cottonwood Mall, a mall filled with arts and crafts, activewear, toy and electronics stores. For families, the mall has a play area and rentable strollers. People can find hotels in different parts of Albuquerque, including the Westside area, that sit within a 30-minute drive of the mall.
Westside
Hotels in the Westside area sit within a nine- to 10-mile drive of Cottonwood Mall. The area is home to the Petroglyph National Monument, a nature area with dormant volcanoes, petrolyph carvings of animals and people, and canyons. Even though Albuquerque experiences cold temperatures during the winter, most hotels in the Westside neighborhood have outdoor swimming pools for families. At La Quinta Inn and Suites Albuquerque West, families can warm up or store their foods in microwaves and refrigerators in their guest rooms or suites. Every month, the Route 66 Casino Hotel hosts live musical, comedy or sports acts, including singers such as Kenny Rogers. At the hotel's casino, adults can play Bingo, poker, blackjack and slot games.
Old Town
Most hotels in the Old Town neighborhood are located within a 10- to 12-mile drive of Cottonwood Mall. In the neighborhood, which was established in the early 18th century, people can see the San Felipe De Neri Church, an adobe church that has been around since 1793. Most Old Town hotels feature bar and grill restaurants with foods such as burgers, burritos, ribs, pork chops or steak. At the Hotel Albuquerque at Old Town, guests have a choice of getting food or drinks from a fine-dining restaurant with garden views, a café with Tapas dishes or a cocktail lounge with live piano music. The hotel also has an 18-hole, Robert Trent Jones Sr. golf course with private lessons for beginners, a driving range and a golf-club rental service. At some hotels, such as Holiday Inn and Suites Albuquerque Historic Old Town hotel, people can stay in guest rooms that have views of the Sandia Mountains.
Midtown
Many hotels in the Midtown neighborhood are located 10 to 13 miles from Cottonwood Mall. Located in the neighborhood, the University of New Mexico has been around since 1889 and has more than 24,000 students. Inside some hotels in the midtown area, including La Quinta Inn and Suites Albuquerque Midtown, guests can order movies or soak in a hot tub inside guest rooms and suites. For families, the Radisson Hotel Albuquerque offers a water park with waterfalls, a surfing ride and outdoor and indoor water slides. Some hotels, such as the MCM Elegante Hotel, offer packages with champagne or cocktails, a dinner at the hotel's restaurant or tickets to area sports games.
Uptown
Hotels in the Uptown area, Albuquerque's business center, sit about 15 miles from Cottonwood Mall. In the Uptown neighborhood, people can shop at the Coronado Center Mall, a shopping center with book, shoes, sporting goods and specialty clothing stores. The Uptown neighborhood features upscale hotels with services and amenities such as convenience stores, guest rooms with TV sports packages, business centers, shuttle services or golf courses. The Hyatt Place Albuquerque/Uptown features a café where guests can get coffee drinks and alcoholic beverages and a restaurant where people can order food 24 hours a day. The Sheraton Albuquerque Airport Hotel has an airport shuttle service for guests. Many suites at the Hilton Garden Inn Albuquerque Airport have separate living rooms with sleeper sofas for larger groups or families.
Photo Credits
albuquerque, New Mexico sunset1 image by Trav from Fotolia.com