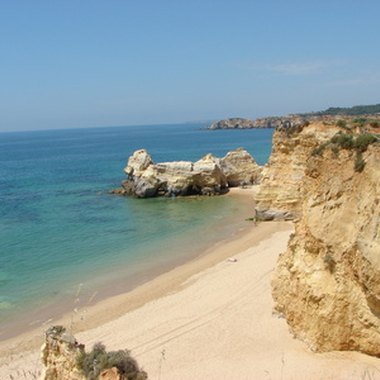 Despite sitting near the top of package tourism destinations in the Algarve, in itself one of the top beach destinations in Europe, Albufeira has managed to retain some of its traditional charm. As a result, visitors to Albufeira have a choice of staying in a hotel near the old village center, with its narrow streets lined with whitewashed stucco houses, or in a hotel perched on a sea cliff and overlooking the beach.
Considerations
Staying outside of Albufeira is something of a mixed blessing. The sea cliff hotels are set in beautiful locations, and their beaches enjoy thinner crowds than the beach in town. However, guests without a car must take a taxi to go anywhere, which is a serious hassle for those who wish to dine outside of overpriced hotel restaurants. Visitors who stay in the city must endure more crowds, but have their choice of authentic Portuguese restaurants within walking distance.
Pensao Dianamar
Endorsed by Rough Guides, Pensao Dianamar offers its patrons clean, simple accommodations at a reasonable price. Perched on a cliff above the town's main beach and in one of the most pleasant parts of Albufeira, the Dianamar is only about 200 yards from that beach and 400 yards from the town center. The hotel is efficiently and pleasantly run by resident Swedes, breakfast is included, and the sea views from the rooftop terrace are splendid.
Sheraton Algarve
One of the best hotels in the area according to Frommer's, the Sheraton has an "Exceptional" rating from that travel guide and a five-star rating from Turismo Portugal. The hotel's architecture and decor were designed to blend in with both traditional and modern styles in the Algarve, with whitewashed walls, decorative tile-work in the walls, and Euro-modern furniture. The hotel is set on a sea cliff about five miles from the center of Albufeira, and has its own nine-hole golf course.
Vila Gale Cerro Alagoa
Part of a chain of mid-range hotels found in Brazil and Portugal, the Vila Gale Cerro Alagoa is a large, 310-room establishment located in town and a few minutes walk from the beach. Vila Gale hotels in Portugal see a lot of package tourists from northern Europe, and this particular hotel is no exception. The furnishings are comfortable, but were made with durability rather than elegance in mind. However, every room comes with its own balcony, and most have sweeping views of the sea.
References
Rough Guide to Portugal; Jules Brown, Mark Ellingham, John Fisher, Matthew Hancock and Graham Kenyon; April 2007.