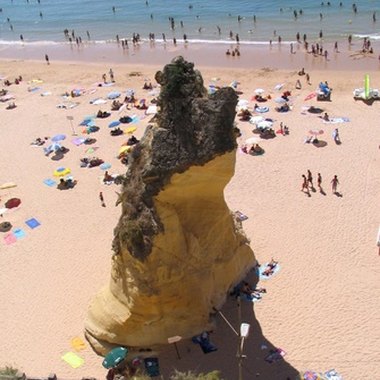 Albufeira was described as "[topping] the list of package-tour destinations in the Algarve" by Rough Guides, making it in turn one of the top beach destinations in Europe. Albufeira started out as a sleepy fishing village, and its old village core of whitewashed, traditional houses and churches remains. Beyond that, the hills beyond the town center are crammed with high-rise apartment blocks, shopping centers, restaurants, bars and a wide selection of hotels.
Considerations
Staying in one of the many hotels near the town center has its advantages, as many bars, restaurants, and the beaches of Praia dos Penedo and Praia dos Pescadores are all within walking distance. However, this area is crowded and noisy during the peak tourist season, May andto September. Outside Albufeira's center are quieter hotels and resorts. Some, like the BaySide Salgados Resort and the Balaia Golf Village, have golf courses and are quieter but can pose transportation problems. If the hotel lacks a shuttle bus to Albufeira and the other area beaches, travelers can be stranded at their hotel without a rental car.
Balaia Golf Village
The Balaia Golf Village is a logical choice for travelers looking to balance a few rounds of golf with their beach time. Situated only two miles east of the town center, the Balaia is a resort complex offering apartments and villas instead of hotel rooms, making it well-suited to the needs of families and long-term visitors. The resort's namesake golf course is a nine-hole, par-3 course, and the village also comes with six separate swimming pools.
Hotel Sol e Mar
The main advantage of the Hotel Sol e Mar, which Rough Guides describes as a "four-star hotel" with oceanfront balconies, is its prime location. The ground floor exits directly onto the beach, right between Praia dos Penedo and Praia dos Pescadores. That location also puts the hotel within two blocks of a Thai restaurant, the restaurant Casa da Fonte with its Portuguese fare, and the town's archeological museum.
Hotel Vila Joya
For those who want to escape the package-tourist hustle and bustle of Albufeira's center, the Hotel Vila Joya offers an alternative on the beach of Praia de Gale. A small hotel with only 21 rooms and suites, the Vila Joya was converted from a Moroccan-style vila in the 1970s, enjoys direct access to the beach via a private footpath, and was described by Frommer's as the sort of place where "visitors can easily imagine themselves in the open countryside."
References
Rough Guide to Portugal; Jules Brown, Mark Ellingham, John Fisher, Matthew Hancock and Graham Kenyon; April 2007.