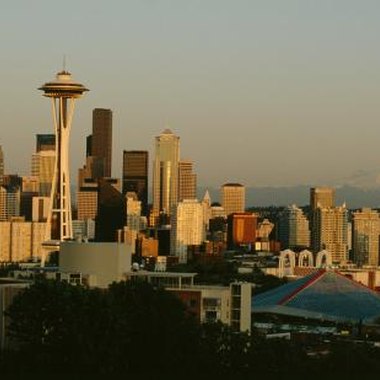 The Pacific Northwest's largest city, Seattle attracts business travelers, foodies and pleasure seekers. Surrounded by Elliott Bay, Lake Union and Lake Washington, the city's skyscrapers offer views of the ocean and nearby mountains covered in evergreen forests. Guests ascend the Space Needle, tour Bainbridge Island by ferry, hit the happening bars of Pioneer Square and tear into hot, crusty sourdough bread at Pike Place Market. When it's time to go, make travel less stressful by staying at a hotel near Seattle's airport. Look for hotels offering standout amenities within the specific type of lodging you prefer.
Longer-Stay Packages
Seattle's convenient location makes it a travel hub for visitors headed for other regions of the Pacific Northwest. Cut costs by booking longer-stay packages at the Red Lion Hotel Seattle Airport, which offers 14-day packages for guests that include free parking and airport transportation. Located across the street from the airport, the hotel's rooms include bathrobes, free wireless Internet access, name-brand toiletries and breakfast buffet. Request an in-room microwave and fridge for storing snacks. Guests may bring pets.
Business Friendly
Seattle's busy downtown district attracts plenty of business travelers; the Radisson Hotel Gateway Seattle-Tacoma Airport caters to such visitors with business amenities that include eight meeting rooms, free wireless Internet access, secretarial services and coordinator services for business events. On-the-go travelers may access three-hour express laundry service, free airport shuttle service, and hotel pick-up from delivery services, including FedEx and UPS. Guests may use fax machines and copy services for a fee.
Seattle Dining
In a city known for its tasty food and beverages, it doesn't hurt to stay at an airport hotel offering slow-roasted meats and homemade brews. At the Coast Gateway Hotel, guests choose from 24 draughts at the on-site Sharp's Roaster & Ale House. The hotel serves free breakfast buffets and runs free shuttles for guests wanting to sample menus from nearby Seattle restaurants. Located one block south of the airport, the Coast Gateway Hotel offers free, 24-hour airport shuttles, free parking, free laundry and an on-site fitness facility. Rooms feature soundproof windows for keeping out the rumblings from steady airport traffic. Guests pay extra for wireless Internet access, and pets aren't permitted.
Light Rail
Eco-conscious Seattle excels at public transportation offerings, and guests staying at the Holiday Inn Seatac International Airport can walk across the street to access the city's Light Rail platform. Rooms come equipped with easy chairs, pay-per-view movies, large work areas and free wireless Internet access. Request in-room microwaves and fridges for light snacking. Guests may use a 24-hour fitness center equipped with iPod connections at workout stations or dip into the hotel's whirlpool. Staff members speak English, Spanish, Japanese and Romanian.
Photo Credits
Jupiterimages/Photos.com/Getty Images