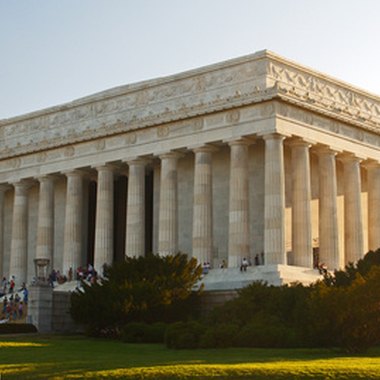 Hotels in a 30-mile radius of Washington, D.C. are only slightly more economical than their downtown counterparts. They're located in small cities, around one of the airports and in business parks. Transportation into Washington is readily available, be it by interstate highway or mass transit. Hotels in small cities have easy access to dining and shopping while airport hotels are self-contained.
Gaithersburg, Maryland
Gaithersburg is a far northern suburb of Washington with easy access to interstates. Established in 1765, the village became a destination for Washingtonians escaping the summer heat during the 19th century and evolved into a high-tech corridor in the 1990s. The Hilton Washington DC North, renovated in 2006, provides free shuttle service to Shady Grove, the closest Metro station, and other points within a five-mile radius. Pillow-top mattresses and triple sheeting are standard in every room. The hotel's restaurant, Rooks Corner, serves steaks and seafood seven days a week.
Dulles Airport
Properties in Starwood's hip hotel chain, Aloft, feature live entertainment, large public areas and contemporary design. Rooms at the Ashburn hotel, 10 minutes west of Dulles Airport, have nine-foot ceilings, walk-in showers and large windows. A self-serve food and beverage area is open 24 hours a day. One-bedroom guest rooms at Hotel Sierra, northeast of the airport, measure 529 square feet and have a full kitchen. Terrycloth robes and iPod docking stations are standard in each room.
Annapolis, Maryland
Annapolis, home to the U.S. Naval Academy, is on the Chesapeake Bay southeast of Baltimore. O'Callaghan Annapolis Hotel is downtown, within easy walking distance of the city dock, restaurants and shops. Rooms, decorated with mahogany wood and leather furnishings, have an elegant Irish theme, and a select number of rooms have balconies overlooking the city. The Sheraton Annapolis, west of downtown, provides a Sweet Sleeper Dog Bed for guests traveling with dogs. The hotel's casual restaurant is open for breakfast, lunch and dinner.
Columbia, Maryland
Columbia is a planned community built in 1967. Creator James Rouse believed a planned city would eliminate cultural boundaries and improve residents' quality of life. The city is equidistant from Baltimore and Washington and has easy access to both. The Sheraton Columbia Town Center Hotel is located on the shore of Lake Kittamagundi near restaurants and the main shopping area in the city. Pure Allergy-Friendly rooms with air filtration systems and micro fiber linens are almost completely free of allergens.
Photo Credits
the lincoln memorial in washington dc image by Gary from Fotolia.com