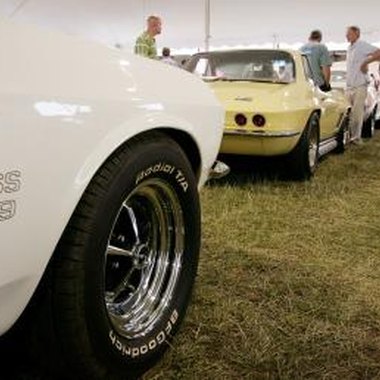 Whether it is a factory correct restoration, a resto-mod or a ride that has been chopped and dropped, you can find it at a car show in Southern California. So-Cal, as the locals call it, is known for its car culture. That includes hot rods and customized rides of any size, shape and color, not to mention make and model.
Long Beach Motorama
The Long Beach Motorama highlights custom rides built before 1969, whether they are cars or motorcycles. In 2011, dates are September 30 through October 2 at the Long Beach Arena. Outside, visitors will find more than 20 acres of grass and American cars built before 1969. Inside, see the American made Dream Kustoms Hot Rods, all one of a kind. Many of these cars are hand-built with thousands of labor hours involved, and customized as per the imagination of the owner. Outside the arena are the Horsepower Corrals, where you can find traditional hot rods and gassers.
Pomona Swap Meet Show and Sale
Pomona is synonymous with car culture, be it at the track or at a hot rod shop. The Pomona Swap Meet Show and Sale is an event that draws car lovers, restorers and customizers from near and far. This is an antique automotive event, with categories for cars as new as 1975. If you happen to own a Porsche or Corvette, all years of those cars are welcome. If you are driving a stock car that is from 1931 or earlier, your entrance fee is waived. This, however, does not include a car that has been modified to something else; it has to be a factory stock car.
Ink-N-Iron: Tattoo and Kustom Culture Festival
The car show at Ink-N-Iron is hosted by the Cavaliers Car Club of So-Cal. All cars at the show have been handpicked from many entries. All cars have to be pre-1963. In 2010, over 200 cars were on display which were viewed by more than 18,000 people. Combined with the custom car culture is live music, art and, of course, tattoos. The car show is held near the tourist attraction ship, the Queen Mary, which only adds to things to see.
Cajon Classic Cruise Car Show
Every Wednesday from the beginning of April to the end of October, El Cajon is home to the Cajon Classic Cruise. Every week presents a different theme, such as Funny Car Frenzy and Tractor Trendz. As the largest weekly car show in Southern California, the show draws more than 50,000 visitors throughout the season. Visitors of the show will not only see some classic car beauties, but can also enjoy the restaurants, street vendors, DJ's, and live entertainment. Trophies are given to entrants with cars from 1979 or older.
Photo Credits
Scott Olson/Getty Images News/Getty Images