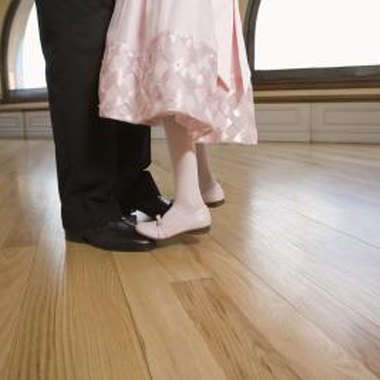 Dads are often the most influential males in the lives of their daughters. A father-daughter dance gives dads special quality time with their daughters and sets a foundation for fostering healthy relationships between fathers and daughters. The dads set an example for the girls as to how men should treat them and the festive environment opens the doors of communication, perhaps setting the stage for girls to seek out advice from their fathers in the future. If you have the pleasure of hosting such a dance, you can meet the challenge of making the event special and memorable.
Items you will need
Father-daughter-themed songs

Father-daughter-themed movies

Karaoke machine

Prize
Step

1
Start the evening by greeting the attendees and saying a few words about the precious bond between fathers and daughters, elaborating on the unique love a father has for his daughter and vice versa. Conclude your opening remarks by commending all the attendees, saying that by coming to this dance, they have clearly shown they value this bond and relationship and its wonderful nature.
Step

2
Open the first dance with a song such as "My Heart Belongs to Daddy" by Cole Porter, "You Are the Sunshine of My Life" by Stevie Wonder or a comparable song.
Step

3
Stream father-daughter-centric movies on a projector during the dance, keeping the movies on mute. Films such as "Father of the Bride," "Mulan," "Definitely, Maybe" and "Fly Away Home" are possible choices.
Step

4
Continue with music appropriate for dads and daughters, such "Thank Heaven for Little Girls," "My Girl" or "Father's Eyes." Allocate certain songs for karaoke and ask for volunteers from father-daughter pairs.
Step

5
Pick a festive song in the same vein such as the Four Tops' "I Can't Help Myself (Sugar Pie Honey Bunch)" and play it as a "dance-off" song, letting all the father-daughter pairs compete, awarding a prize to the winners.
Step

6
Conclude the evening by thanking all the dads and daughters for coming and close the night with a special song, such as "Wind Beneath My Wings" or "Isn't She Lovely."
Photo Credits
Jupiterimages/Creatas/Getty Images