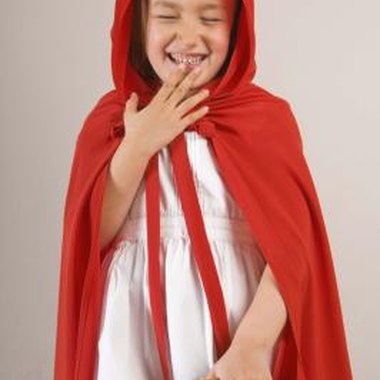 For a fundraiser that's more fun than the typical black-tie evening, a fairy tale ball may be just the ticket. Entire families can attend, giving you access to an audience that may not have attended in the past because of the difficulty finding babysitters. Make sure you enchant the children at the ball with the food and entertainment, and they'll make sure mom and dad take them to the ball every year.
Items you will need
Volunteers

Meeting place

Hall

Caterer

Sponsors

Donated prizes
Step

1
Choose a date, time and location for the ball. It should be held when most of your organization's leaders can attend. If children will be attending, make sure it's held on a weekend night that doesn't conflict with school, and not too late in the evening for children to enjoy the event. Choose a location that's convenient for most people.
Step

2
Make sure everyone involved in the planning is in agreement on the organizations that will benefit from the ball's proceeds, if it is a fundraiser. Most fairy tale balls are held to benefit children's causes. If your organization is the obvious beneficiary, agree upon the projects within your organization that will benefit from the funds.
Step

3
Set ticket prices for adults and children, and the cost for a whole table, which is usually a bit less expensive per person. Research what other organizations have charged for fundraising balls and galas that have been held in your area within the last year to help you decide on ticket prices.
Step

4
Establish different levels of sponsors and donors. Give the levels fairy tale names, such as Kings, Princes, Dukes and Earls.
Step

5
Search for sponsors and donors immediately, both financial help and assistance from well-connected community members who can help you reach the decision-makers you need. For sponsors, think of businesses and individuals that work with children.
Step

6
Consider entertainment that will please your attendees. Magicians, jugglers and clowns are examples of entertainers that adults and children will both enjoy.
Step

7
Appoint a decorating committee, preferably chaired by an individual with a decorating, design or style background. Decide if there will be a specific theme beyond fairy tales. Perhaps each table could be decorated with a different theme or fairy tale.
Step

8
Decide if you will have prizes, and if so, of what kind. You might award prizes for best individual costume in different age categories, and best family costumes, for example, as well as door prizes. Ask donors and sponsors for prizes. A travel agent might donate a trip prize, while a ski shop might donate family ski gear. You can also hold a silent auction, which lets guests bid for the prizes they want.
Step

9
Appoint a food committee, preferably chaired by an individual with a restaurant or catering background. Although the main meal can be the same for children and adults, have at least one food that's primarily intended for each. For example, an ice cream sundae bar would appeal more to children, while alcohol is clearly for adults. If you're serving hors d'oeuvres, include some that children would like, such as mini hot dogs in pastry or small pieces of pizza cut into appetizer-sized pieces.
Step

10
Publicize the ball. Write a press release and distribute it to the media. Ask each of your members to put a prepared paragraph about the ball in their church and neighborhood newsletters. Print colorful fliers and ask for permission to post them in store windows, and on free bulletin boards in stores and community centers. Clearly highlight contact names and phone numbers for making donations and buying tickets. Utilize social networks, too, by asking your members who are most comfortable with Facebook, Twitter and other online outlets to post information and updates on the ball.
Tips & Warnings
Follow up regularly with each person handling part of the planning so you can solve problems before it is too close to the event.

Decide on a minimum age for children to attend. Toddlers are adorable in their costumes, but they will become cranky when they are tired.
Photo Credits
Jupiterimages/Polka Dot/Getty Images