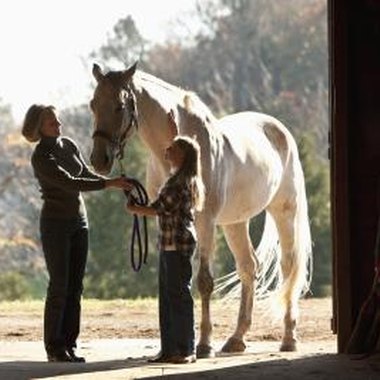 Disabilities come in many forms, from social or emotional disabilities to physical limitations. Regardless of the disability your child has, riding therapy can promote growth and physical and emotional healing for your child. Riding therapy can help children overcome fears and build self-esteem and confidence, and it is an excellent way to provide disabled children control of movement that they otherwise might not have. Riding also offers some physiological advantages including strengthening muscles and improving balance and coordination.
Starlight Farm
Starlight Farm (starlightfarms.org) is located in Ringwood, New Jersey. Starlight Farm has three certified and registered instructors, and they offer therapeutic riding sessions year round. Starlight Farm welcomes children with a variety of disabilities including cerebral palsy, ADHD, autism, anxiety disorder, depression and Down's syndrome. The three therapy forms Starlight Farm offers include speech and language, occupational and physical therapy. Your child will learn riding skills during the horseback riding therapy session that opens the door for them to become advanced riders.
Horseback Riding for the Handicapped of New Jersey
Horseback Riding for the Handicapped of New Jersey (hrhofnj.org) offers recreational and therapeutic opportunities for disabled children and adults. HRH of NJ was founded in 1980 and is a not-for-profit organization that offers education for the public and training programs for instructors and therapists, and collects data for research on therapeutic horse programs. HRH of NJ has several member centers located in north, central and south New Jersey. Find the locations and how to sign your child up for horseback riding therapy by visiting the HRH of NJ website.
Gleneayre Equestrian Program
Gleneayre equestrian program (gleneayreequestrianprogram.org) is located at Lumberton farm in Lumberton, NJ. GEP is a non-profit program for children 10 years or older. The Lumberton equestrian center was established in the early 1990s, and the GEP started in 1998. GEP teaches children responsibility and self-esteem through nurturing and caring for horses. Children accepted in the program are assigned a horse that they a required to ride and care for four days a week. GEP currently has 25 horses and ponies that have all gone through a month-long trial period before being accepted into the program.
Atlantic Riding Center for Health
Atlantic Riding Center for Health (arch206.org) is a non-profit organization located in Egg Harbor Township, NJ. ARCH has several trained horses and certified instructors, and they offer therapeutic and recreational English riding lessons as well as a grooming program for those that cannot ride a horse due to their disability. ARCH welcomes children with cognitive, emotional, physiological, social and learning disabilities.
Considerations
Choose a riding program that will have safe, gentle and well-trained horses and professional instructors. The instructor should have an educational background and knowledge about children with disabilities. Horses and riding may be strange for your child at first, and getting her involved may take few lessons; do not expect too much from the first lesson. Consult your child's health care provider before signing him up for riding therapy.
Photo Credits
Comstock Images/Comstock/Getty Images