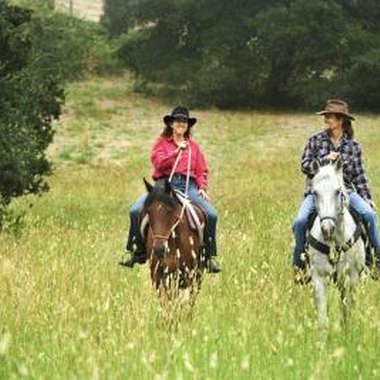 West Covina is located in the San Gabriel Valley of California along the San Bernardino Freeway between Pasadena and Pomona. It has a population in 2011 of approximately 120,000. West Covina separated from adjacent Covina in 1923 when Covina planned to build a sewer farm on the west side. Equestrians can find four public horse trails within an hour's drive of West Covina.
Marshall Canyon
The Marshall Canyon Equestrian Center is a privately run center with guided trail rides, pony rides, riding lessons, horse boarding and equestrian summer camps. It's located in LaVerne, California, about a 20-minute drive from West Covina, north of Highway 210. Riders must weigh less than 240 pounds for the two-hour trail rides. No double-riding is allowed, and riders must be no younger than 7 years old. As of 2011, the cost of trail rides was $35 an hour per person.
County Trails
At County Trails and Riding School, as of 2011, the cost per hour for guided trail rides is $40. The maximum rider weight is 200 pounds, with no double-riding allowed. The minimum age for riders is 8 years old. County Trails only books by appointment on Tuesdays and Sundays. County Trails is located inside Irvine Regional Park, in Orange, California. Orange is around a half hour drive south from West Covina, near Anaheim -- home of the original Disneyland.
Schabarum Park
Peter F. Schabarum Regional Park is part of the Los Angeles County Parks and Recreation system. Situated in Rowland Heights, Schabarum Park is on Powder Canyon, around 15 minutes south from West Covina. The equestrian trails at the park are for rider-owners, and the park has parking accommodations for horse trailers at its equestrian center. Parking fees as of 2011 were $6 a day. The park is open every day of the year except Christmas. From April through September, park hours are 7 a.m. to 8 p.m. From October through March, hours are from 7 a.m to 6 p.m.
Chino Hills
About an hour's drive southeast of West Covina, along Highway 71 outside of Corona, is Chino Hills State Park. Situated on the Santa Ana Canyon, this sprawling 14,201-acre park is completely wildlife- and vegetation-protected under "open space habitat" regulations, and boasts 65 miles of horse trails, as well as camping. The terrain includes woodlands, grasslands and sage scrub. The park provides an equestrian staging area for rider-owners.
Photo Credits
Jupiterimages/Comstock/Getty Images