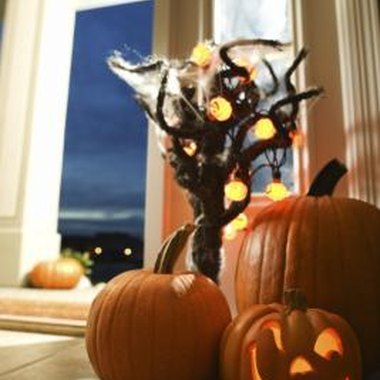 Discover the latest up-and-coming screenwriters and filmmakers by heading over to Eerie, Pennsylvania, for the annual Eerie Horror Fest. The festival started in October, 2004, and has helped screenwriters and filmmakers receive recognition for their science fiction, horror and suspense films. Participants have opportunities to meet celebrity guests and purchase horror-related merchandise from vendors.
Filmmakers and Screenwriters
Filmmakers and screenwriters who write in the horror, suspense and sci-fi genres have the chance to enter their films for a possible viewing opportunity at the festival. Twelve possible categories include options for feature films, shorts and screenplays. The festival accepts online submissions and charges a fee that varies depending on the type of media submitted.
Public Events
The event is public and open to anyone who would like to enter. Organizers do charge a small fee for entrance but allow children under the age of 12 free entrance, provided they are accompanied at all times by an adult. Several options are available, including single and multi-day passes. The event does not bar entrance based on age, but some films, such as the midnight showings, do require attendants to be at least 18 years old. The hosts have accounted for all types of visitors and have ensured that the event is wheelchair friendly.
Celebrity Guests
The host recommends bringing cash in the event you would like an autograph from one of the celebrity guests. Not all guests will charge a fee; it is up to the discretion of the celebrity. Guests who have agreed to come must sign a contract to guarantee their presence except in extreme emergencies. The event's website details the current guests for the year. As of 2011, the fee for an autograph usually ranges between 10 and 25 dollars.
Carnival of Carnage Expo
Seminars for filmmakers and screenwriters are also available at the festival for those who would like to network and gain private information about the industry. Fans and filmmakers have the rare opportunity to meet their favorite stars and meet with film representatives at their Carnival of Carnage Expo. The hosts also historically have included performances by famous rock bands, including Alice Cooper, Nine Inch Nails and Judas Priest. Participants can expect a fun and engaging experience that motivates and informs attendees and creates the opportunity for valuable connections with other artists.
Photo Credits
Thinkstock/Comstock/Getty Images