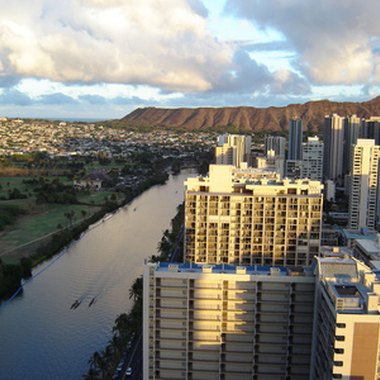 Honolulu offers the visitor an inviting mix of cosmopolitan city and beachfront tropical retreat. While many more hotels than motels cater to the influx of international travelers, hundreds of choices in accommodations give guests the chance to save money at an affordable motel by the airport, live in luxury on beachfront Waikiki, stay close to shopping or something in between.
Pacific Marina Inn
The Pacific Marina Inn is a motel located conveniently at the Honolulu International Airport, which puts you right between the Waikiki area and Pearl Harbor. Amenities include a sun deck with swimming pool, TV, free Wi-Fi and air conditioning. Enjoy diner-style fare for breakfast lunch and dinner at Lance's Kitchen Restaurant. The Canoe Hut Lounge serves traditional Hawaiian drinks such as mai tais.
The Moana Surfider, a Westin Resort and Spa
In 2007, the Moana Surfrider, one of Waikiki's original "grande dame" hotels, underwent a complete renovation and remodeling by new parent company, the Westin. The upgrades include new furnishings, carpet, paint and artwork. Open and welcoming guests since 1901, this classic, beloved hotel sits beachfront on Waikiki and offers guests the flavor and graciousness of old-fashioned Hawaii combined with the elegant style and amenities of 2010. You can walk through the lobby from glittering Kalakaua Avenue and hit the famous sands at Waikiki, passing posh hotel shops and cafes along the way.
Aqua Bamboo and Spa
Small, intimate, cozy and elegant, the hip Aqua Bamboo offers an oasis in the heart of cosmopolitan Honolulu. On Kuhio Avenue, one block from the ocean, the Bamboo gives visitors a sense of tranquility and privacy through its pool courtyard and massage hale (hut), which offers a variety of therapeutic treatments. Try the hot stone massage combined with Hawaiian lomi lomi for a relaxing de-stressing treatment. Rooms feature balconies with city views and some even come complete with full kitchens.
Hawaii Prince Hotel Waikiki and Golf Club
At the Hawaii Prince Hotel Waikiki and Golf Club, guests will find a somewhat-dated property with an outstanding view of the Ala Wai Harbor from every room. Its location near the Ala Moana Shopping Center, the largest outdoor mall in the nation, is a huge draw for international visitors. A fifth-floor sun deck with cafe sells drinks you can take poolside. Comfortable beds, robes, slippers and fridges round out the list of amenities.