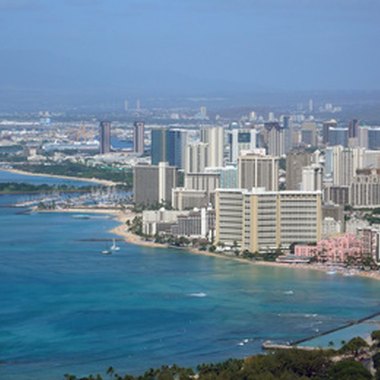 Blessed by tradewinds, framed by rain-carved green mountains and imbued with a mild, temperate climate, the beautiful city of Honolulu has beckoned travelers for more than a century, whether they arrived via Matson steamer, Pan Am clipper or large commercial jet. Beaches, shopping, the arts, cultural activities, historic parks and water recreation all play a part in Honolulu's warm welcome.
Moana Surfrider, A Westin Resort & Spa
In 1901, when there wasn't a single hotel at Waikiki, the Moana Surfrider welcomed its first guest. Resting directly on the beach at Waikiki, this grand hotel features a warm heritage, rich history and prime location. Westin bought the property in 2007, completely remodeling and restoring the rooms and lobby areas, adding new furnishings, paint, carpeting ad lighting fixtures. A Honolulu landmark and legend, over the years, the hotel has hosted numerous celebrities and dignitaries as well as those ordinary visitors seeking a tropical respite on Waikiki.
The Outrigger Waikiki on the Beach
Located on oceanfront Kalakaua Avenue, The Outrigger Waikiki on the Beach is right in the center of Waikiki's exciting downtown with its interesting combination of posh shops, Pacific Rim eateries and surf shops. A sunset cocktail at Duke's, lit by its iconic neon sign, and open to the beachfront is a must. Here, you'll enjoy Hawaiian entertainment, views of the sands at Waikiki, Diamond Head and the vast, blue Pacific.
Halekulani
Halekulani is considered by residents and visitors alike to be one of the premier hotels at Waikiki, and is the place to spot celebrities visiting Honolulu. Recognized for its famous orchid-tiled swimming pool, Halekulani has welcomed visitors to Waikiki for more than 100 years. The name means "house befitting Heaven," a philosophy the hotel management takes seriously in the implementation of its gracious hospitality, as well as in its room amenities, including glass-blocked showers, vanities of fine marble and premium linens.
The Royal Hawaiian Hotel
One look at the architecture of the Royal Hawaiian Hotel and you'll think you've stepped into another era. Built in the 1920s, this iconic pink hotel has stood the test of time and is considered one of Waikiki's top beach hotels (also one of the so-called "grand ladies.") Walk through the gracious lobby with its vintage floors, meticulous woodworking and vintage details, all carefully preserved. Rooms with dark hardwood furniture contrasted with crisp white bedding, also recall another era. Views of Waikiki and Diamond Head are stellar. And don't forget to have a sunset cocktail at the hotel's famous Mai Tai Bar.
Photo Credits
View of Honolulu image by Katja Sucker from Fotolia.com