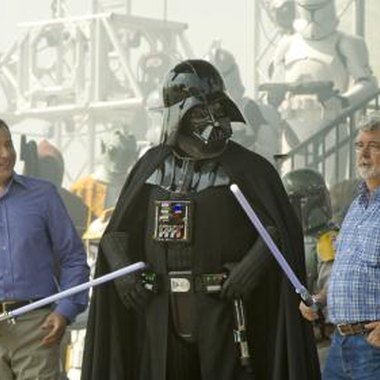 Create homemade invitations for a "Star Wars" theme party, whether for a birthday or another occasion. Use card stock to create single-sheet invitations, or thinner paper to make fold-out cards with the information written on the inside. Make cards in the shape of various characters or certain objects from the "Star Wars" universe.
Robot Invitations
Make invitations in the shape of "Star Wars" famous robot characters, R2-D2 and C-3PO. Invitations can be done free-hand or by printing images from assorted Star Wars sites. R2-D2 is the easier one to make, as the little blue-and-white robot has a bit of a mailbox shape, while golden C-3PO has more of a human shape. Create single-sheet cards with the party information on the back, or fold-out cards if desired. Use crayons, markers or paint to decorate the invitations.
Collage Invitations
Print out images of "Star Wars" characters to make collage invitations. Use images of various characters, both good and bad, from all six films, or make the collages more specific, such as the villains of "Star Wars," which can include pre-Darth Vader Anakin Skywalker, Darth Maul, Darth Vader, the Emperor, Grand Moff Tarkin, Jabba the Hut, Boba Fett, Count Dooku, battle droids and General Grievous. Another collage invitation could include the heroes of "Star Wars" -- Luke Skywalker, Han Solo, Princess Leia, Queen Amidala, little Anakin Skywalker, Yoda and Obi Wan Kenobi. Collages can go on the front of a piece of card stock with the necessary information written on the back.
Object & Ship Invitations
Create invitations in the shape of assorted objects used in "Star Wars," such as light sabers, blaster guns, Han Solo's ship, the Millennium Falcon, Imperial Walkers, Imperial stormtrooper helmets, the Death Star and helmets from other characters, such as Boba Fett. Invitations featuring ships from the series can read, "You're invited to a party that's out of this world" or similar message.
Jedi Invitations
Cosmic invitations that read "May the force be with you at [name's] birthday party" are another option. Use such wording over an image of the "Star Wars" universe or next to an image of a light saber. Another option is to find images of Jedi characters using the "force," such as Luke Skywalker, Obi Wan Kenobi, young Anakin Skywalker, Yoda, Mace Windu and Qui-Gon Jinn. Such pictures can include these characters in meditation poses or with outstretched hands reaching for a particular object.
Photo Credits
Handout/Getty Images Entertainment/Getty Images