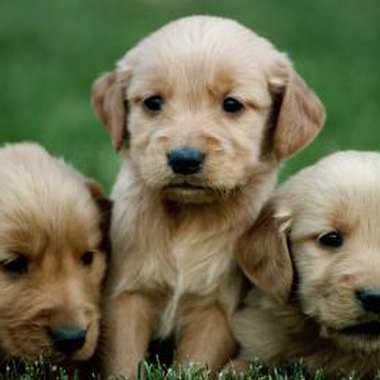 Whether you love English bulldogs, chihuahuas or Great Danes, a party for dog lovers deserves a puppy-themed invitation. Making a homemade invite allows you to create a distinctive invitation that will let your guests know the party is all about puppies. Find inspiration in pictures of your favorite dogs to create homemade invitations.
Computer-Designed Invitations
One of the easiest ways to make a puppy-themed invitation is through a computer program that allows you to design exactly the invitation you want. If you have a picture of your own puppy, place it in the middle of the invitation. Better yet, use a picture of your child and his puppy together. Place the invitation wording underneath the picture. If your child loves dogs but does not have one, find a graphic or stock photo to feature on the invitation. Print the invites on your home printer or take a disc to a store that offers printing.
Dog-Shaped Invitations
Use cardstock to make invitations in the shape of a puppy's face. Cut a circle out of one piece of cardstock and use another piece to cut floppy ears. Put the wording under the floppy ears. Decorate the invitation with markers and wiggly eyes. Another idea is to cut the body shape of a favorite dog from cardstock. Hand write the wording directly on the invitation or print it and glue it to the invitation.
Dog Accessory Invitations
Create a bone-shaped invitation from cardstock for a simple idea that lets guests know right away the party will be puppy-themed. Place the wording in the middle of the bone. Another idea is to make a dog house-shaped invitation. Glue a picture of your child and his puppy in the doorway of the dog house. If you plan to hand-deliver the invitations, add ribbon to make a dog collar. Attach a piece of paper with the party information to a small metal dog tag and place the dog tag on the ribbon.
Greeting Card Invitations
A plain greeting card easily transforms into any type of puppy-themed invitation you want. Embellish the front of the card with puppy-themed stickers. Cut-outs shaped like dogs work well for the front of the card or alongside the wording on the inside. Make each invitation the same or choose different silhouettes and stickers to make each unique.
Photo Credits
Jupiterimages/liquidlibrary/Getty Images