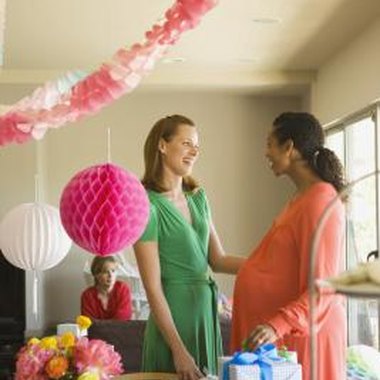 Homemade onesie invitations are a charming way to make guests and the expectant parents excited about a baby shower. They can be customized to fit the style and personality of the expectant parents, and they allow for a lot more creativity and distinctiveness than store-bought invitations. Homemade invitations add a special touch to a shower and make treasured mementos for baby scrapbooks.
Choose the Right Kind of Paper
Cardstock is the standard paper used for cards, and choosing the right kind of cardstock can make your homemade invitations even nicer. It works well for making cards because it can hold its shape if folded. You can buy cardstock with a glossy or matte finish and in patterns and textures as well. Choose a cardstock with a cute pattern appropriate for the baby or the style of the expectant parents.
Envelopes
Purchase envelopes in a size to fit your homemade onesie invitations online or from a local store. Leave enough room that your invitations can easily slide into the envelope without damaging the shape of the paper or any embellishments attached to it.
Cutting the Onesie Shape
Cut the shape of a onesie from a flat piece of paper using scissors or using a die-cut machine that cuts the shape out with one motion, such as a Cricut, Cuttlebug or Brother die cutter. If you are folding the paper in half so the card can be opened, use scissors for the best results.
Invitation Details
Print or handwrite the details of the party, using a fine point or metallic oil marker, onto a different piece of paper to be glued to the invitations. Add more dimension and color to this section by matting the details section with a complementary color of cardstock.
Embellishments
Use scrapbooking scissors to cut scalloped edges on the sleeves or on the edges of the concave cutouts on the bottom of the invitation. Use rhinestones, glitter, lace and ribbon to glam up the invitations according to the personal style or theme of the party. Use scrapbooking embellishments such as stickers, brads and eyelets to give the invitations an extra-cute flair.
Photo Credits
Jupiterimages/Brand X Pictures/Getty Images