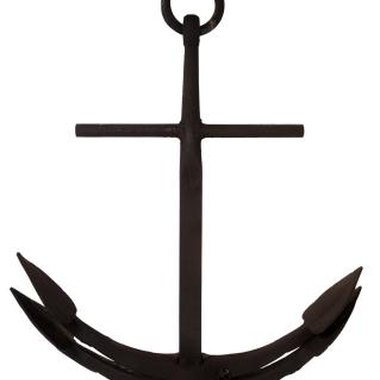 It's easy to make nautical favors that look like you spent a lot of time and money on them, when in fact they are easy and fairly inexpensive to make. Look for the items you need in dollar stores first. Larger stores have glass items in bulk. Craft stores often have glass votives and even goblets at prices that rival dollar stores, and are a good source for stickers, paint and the other craft items you need. If you don't find what you want at a craft or dollar store, e-stores are a good resource, too.
Candle Holder
Purchase simple glass votive candle holders, one for each guest or couple. Find nautical-themed stickers in the scrapbooking department of a craft store. They may have both flat and raised designs, so spend a little time looking before you choose one. Test one of the stickers to see how well it adheres to the glass. If it does not adhere well, buy a craft glue that is recommended for glass crafts. Use a small dot of glue to stick the sticker to the votive holder. Buy votive candles in a color that matches the stickers.
Personal Goblet
Purchase an inexpensive goblet, wine glass or champagne flute for each guest. Tape a flexible plastic stencil of a sailboat or anchor to the glass. Using a paint pen specially designed for glass painting, paint in the stencil. If you're using a sheet of nautical stencils, cut them apart and use all or several of the designs to minimize both your cost and overall drying time. When the paint is "set," meaning it is not totally dry but dry enough to hold its shape, remove the stencil by lifting it straight up off the glass so the paint doesn't smear. Allow the designs to dry completely before using or giving them as gifts.
Magnets
Purchase resin items with flat backs in nautical themes such as anchor, starfish and ship's wheel. Buy a sheet of craft magnets and stick one to the back of each wooden piece. A larger item may need two magnets. Make at least two different styles so couples, siblings or anyone else living in the same household go home with different magnets.
Fishnet Favors
Buy decorative fishnet in nautical brown, blue or red, or whatever color matches your decorations. Cut the fishnet into 6-inch squares. Place wrapped candies in the center of the net. If the candy is able to slip through the netting, put a layer of matching burlap on top of the netting. Pull up all sides of the net and wrap a 12-inch piece of matching ribbon around it, just above the candy, to tie it closed. Slip a seashell with a hole onto one end of the ribbon. Add a small tag with a sentiment such as, "May you always have smooth sailing," and add the date of the party. Tighten and knot the ribbon to hold the favor together.
Photo Credits
Brand X Pictures/Brand X Pictures/Getty Images