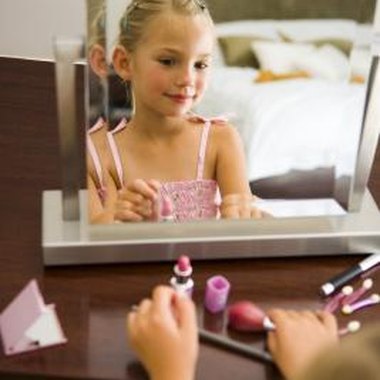 Although all Club Libby Lu stores were closed in 2009, that doesn't mean you can't throw your little girly girl a Club Libby Lu-inspired party in your own home. As a destination store for preteen girls, Club Libby Lu offered all things glamorous and girly with a variety of party options for makeovers, makeup, dress-up and purse-puppy pampering. Choose a theme and create your own stylish invitations to make your little girl's dress-up dreams come true.
Makeover Party
A fabulous party where all the little girls get a makeover needs an equally fabulous invitation. Glue a piece of silver foil to the front of a rectangular folded card to make it reflective like a mirror. Use permanent markers to draw red lips, rosy cheeks, eye shadow and a hairdo on the foil. Make sure to draw the features so that they are aligned with the correct spot on your face when you look in the mirror. Decorate the edges of the card using stick-on jewels to make it look like a dazzling mirror frame. When your guest opens her invitation, she will see a transformed reflection of herself on the cover setting the stage for a magical makeover event.
Make-Your-Own-Makeup Spa Party
Create your own plush fabric invitations to pamper your girly guests before they even arrive. Purchase spa-related items such as eye masks, fabric headbands, face cloths, towels or flip-flops to form the bases for your invitations. Print your invite info on iron-on transfer paper for permanent adhesion to fabric, or onto sticker paper for temporary adhesion and apply the invitation to your spa-related base. A hand-delivered invitation gift is very luxurious, so if they are local, deliver your pampered princesses' invitations in person.
Dress-Up Party
Dressing up in stylish duds is one thing that all little girls love to do. If you have a trunk full of dress-up clothes, it can also be a fantastic party where your pretty petites can play on their own. For a fashion fabulous invitation, purchase some paper dolls and their clothes. Collect photos of your guests and attach each little girl's head to one of the paper dolls. On the back of the paper doll write the invitation to the party including all the pertinent information. Package the invitation doll, along with various outfits, in an envelope for each dress-up-diva invitee and wait for the squeals as each one gets to try miniature clothes on her own pint-sized self.
Puppy Spa Party
A puppy spa party can be the perfect combination of stickers, collars, leashes, hair jewels and puppy carrier bags, and all of the accessories can be decorating activities at your pampered pooch party. For the invites, make and decorate sugar cookies that look like puppies, bones, purses and nail-polish tubes. Use royal icing to decorate the cookies, making sure to use lots of pink, purple, and glitter. Assemble the cookies in little cellophane bags and print puppy paw-shaped stickers that will act as the informative invites and the bag closures. Inform your guests to bring their stuffed puppies for an afternoon of pampering and wait for the woofing good times to begin!
Photo Credits
Jupiterimages/Pixland/Getty Images