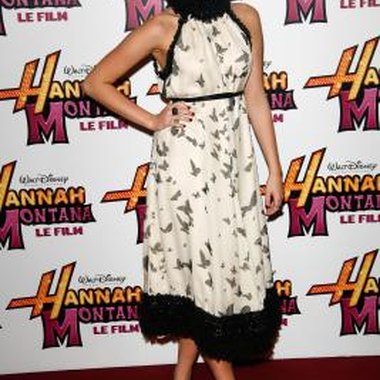 "Hannah Montana" is a Disney Channel show about a teenage girl who has two lives -- one as a regular middle school student, Miley Stewart, and a second as a best-selling pop artist, Hannah Montana. The show, which stars Miley Cyrus, has spawned a concert tour, games, books and movies. Hannah Montana mania is especially popular with tween and teen girls and makes a perfect birthday party theme for that age group. Try any of these different options for creating Hannah Montana invites at home.
Free Printable Invite
If you're looking for something quick and easy, use a template you can download for free and print on your home printer. Personalized Party Invites, for example (personalizedpartyinvites.com), offers a Hannah Montana invitation with a picture of Hannah and the phrase "Let's party like rock stars!" The invitations can be printed on your home computer on regular 8-1/2-inch-by-11-inch paper. You fold the invites into quarters and fill in the party information. These invites will let everyone know what kind of party you're having.
Concert Ticket Invite
In 2007, when Miley Cyrus announced a 54-city concert tour in which she would perform as both herself and Hannah Montana, tickets sold out in minutes. Thousands of girls across the country were devastated when they couldn't get one. Now, you can give your birthday girl's friends their own Hannah Montana ticket. Use your computer and design or word processing software to recreate a concert ticket. You can find examples of such tickets on the Internet. Use "(birthday girl's name) Birthday Party" for the concert name, and the date and time of the party for the concert date and time. Print the tickets out on heavy paper and deliver them to guests.
Paparazzi Invite
In the show, Hannah Montana is always hiding from photographers, and in real life, Miley Cyrus is constantly chased by the paparazzi. Have some fun with that idea and create invitations in the shape of cameras. Use black construction paper for the camera's body and place a photo of Hannah Montana in the center of the lens, as if the paparazzi member has just taken a picture of her. On the opposite side, write or print the information about the party. To play with the paparazzi theme even more, create a red carpet outside your house the night of the party and have each guest walk it. Older siblings, parents or neighbors can act as the paparazzi and take pictures of the guests on the red carpet. You can even include a life-size cardboard cutout of Hannah Montana on the carpet to pose with guests.
Photo Invite
Create a photo of Hannah Montana and the birthday girl using computer software. Download a picture of Hannah from the Internet and have the birthday girl strike a similar pose and snap a pic. Combine the two photos on your computer and place them in a design or word processing document. Print "Hannah Montana wants you to come help celebrate the birthday of her good friend (birthday girl's name)" on the invite and include the rest of the party information.
Photo Credits
Julien M. Hekimian/Getty Images Entertainment/Getty Images